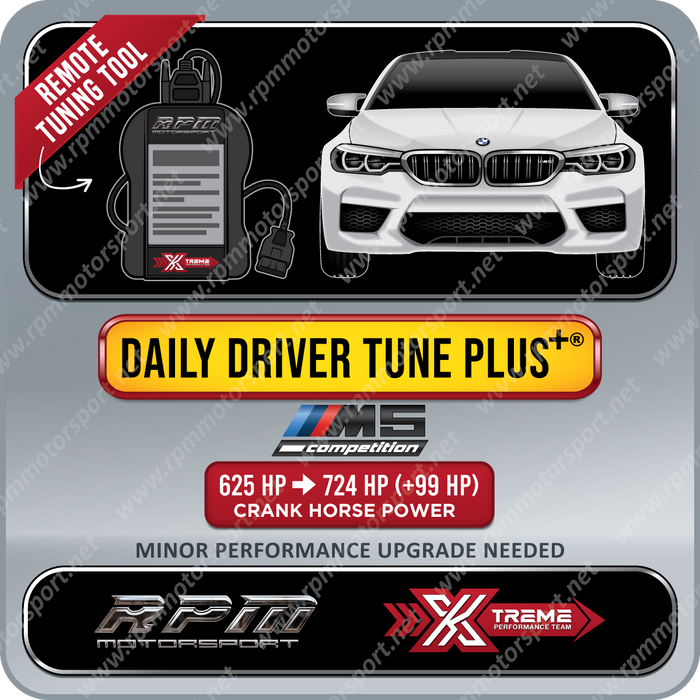 X5 35d SCR, DPF, EGR delete tune
This company is amazing! Super knowledgeable and easy to get this tune done. We love the performance tune as well. Highly recommend
Thank you for the kind words Eric! It was our pleasure working with you!
535d is running!
Great service with people that know their craft. My car, a 2014 535d, was in NO START mode. It's not fair that a car manufacturer can dictate how you want to run your own car. RPM gave me back my car! and my car runs better than factory.
Thanks for the awesome review! Glad we were able to help bring your diesel back to life!
Best Customer service
Best Customer service Ever ! Delivery Fast and i Do recommended
We really appreciate that! It was our pleasure :)
DPF delate
Car wasn't able to start do to code no start DPF malfunction. Order the kit great customer service and response from Lee with questions and walk through guid on how to delate the code. Thank you! Great experience over all! Highly recommended
Thanks for the kind words Gabe. Happy to hear that everything is good to go!
Awsome
I can a feel a big deference in the throttle response and increase in power. In the bottom end
That's awesome to hear Michael! Thanks for taking the time to write a review! Glad to you are happy with the tune :)
BMW M5 F90 S63 COMPETITION 2018 to 2020 Rpm Motorsport Daily Driver Tune Plus
Save

$0.00 CAD
Save

$-1,900.00 CAD
Product Information
This is a BMW M5 F90 Competition S63 Engine Daily Driver Tune Plus+. Rpm Motorsport enhanced version of a Stage 2 Tune.
Remote Tuning
With Remote Tuning, we will send you our Xtreme remote tool that reads & writes your tune via OBD2.
Tuning Specs
Daily Driver Tune Plus power increase of +99 HP and +115 NM

 

of torque.  

Models supported
BMW F90 M5 Competition (5 Series) Sedan Years 11/2017 to 6/2020
ECU Support
DME 88T0 (MG1CS201) with S63 Engines:
8740051 - 9894565 - 9468879