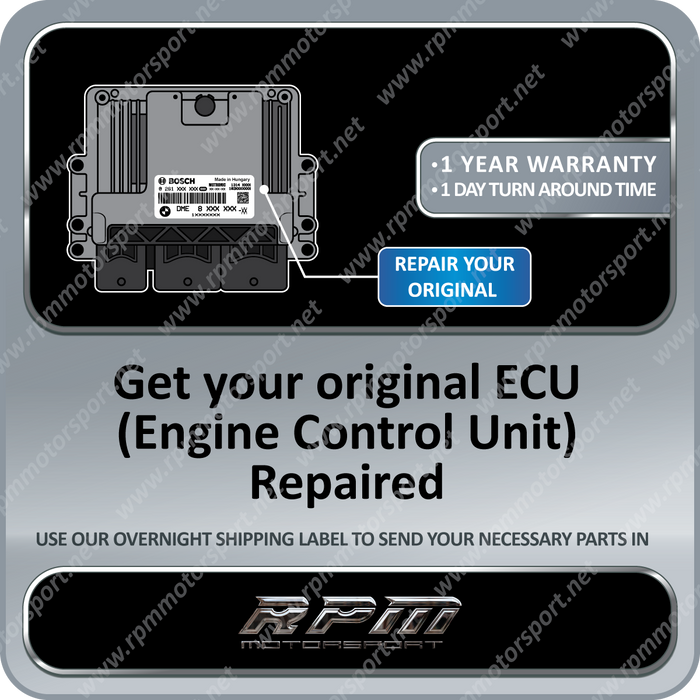 Mini Countryman S DME repair
As promised, RPM repaired the DME module on time as quoted. The car was bricked, and Mini USA isn't even taking wait-list names for OEM modules. RPM saved the day! The car is running perfectly again. Very impressive service and a quick turnaround.
Thanks for the kind words Tim!
MOSFET repair
So I attempted to repair my MOSFET on my own. After a few attempts I dealt defeated. I contacted RPM and received a response quick. We corresponded and I sent in my dme. I thought I burnt my dme considering the codes I got after trying repair. I let them know this. After 3 days of being shipped I received an email stating the technician made the repair and my dme was fine. I received my dme a day later. Installed and car was good to go. They could have told me my dme was fried because the internal temp code I got at home and I would have believed it, but they didn't. They were solid and honest. The customer service was excellent and and the turn around from really quick. If I ever have a problem that I cannot fix they will be my first call.
Hello Trevor,
Integrity is our motto, and people like you make us want to take it even further! Thank you for taking the time out to write this awesome review! It was awesome serving you!
Fantastic Company!
Our new go to company for DME repairs. Great customer service and came up with a great solution for our problem we were having. Highly recommend!
Bank 2 Misfires
We had diagnosed a DME issue as a problem with the misfires for cylinders 4-6. RPM tested our unit and determined that the misfires were ok and there must be another issue with the DME. They suggested to us to buy a used DME and have our vin written into it. They nailed it. The new DME fixed the issue and we look like heroes to the client. We are very thankful for their sound advice, quick turn around and reasonable pricing.
Hello Brian,
It's awesome to see how our clients make their clients happy! Thank you for your awesome feedback!
BMW MSD80 Injector misfire
Thank you so much for a great professional experience. We will continue to use your services.
Hello Nelson,
It was our pleasure! We're looking forward to hearing from you again! :)
Mini Cooper R56/R60 N18 Engine DME Misfire Repair Service
Save

$0.00 CAD
Save

$-999.00 CAD
Product Information
This is a MINI Cooper Repair Service for any Generation 2 (R-Series) with an N18 engine equipped with DME MEVD1722 or MEVD1727 and has this symptom:
DME is not sending proper signal to the ignition coil for an individual cylinder.
Troubleshooting Steps:
Swap Ignition Coils and Spark Plugs from the cylinder that is misfiring with another cylinder and see if the misfire stays on the same cylinder or moves to the other one. If the misfire jumps to the other cylinder this could mean the issue is with the Ignition Coil or Spark Plug not the DME. 
EXAMPLE:

3 EASY STEPS (READ CARFULLY)
CYLINDER 2 has constant misfire -> STEP 1 -> SWAP IGNITION COIL CYLINDER 2 WITH CYL 1 -> IF CYLINDER 2 is NOT MISFIRING and the misfire jumped to CYLINDER 1 proceed to STEP 2. STEP 2 -> REPLACE IGNITION COIL.
If CYLINDER 2 is still MISFIRING proceed to STEP 3 ->  STEP 3 > Repair ECU at RPM MOTORSPORT.
Models supported 
MINI Cooper S Clubman LCI (Face-lift) R55 (N18 Engine) Years 03/2009 to 

06/2014

MINI Cooper S LCI (Face-lift) (N18 Engine) Years 01/2010 to

 11/2013

MINI Cooper S Countryman R58 / R60 (N18 Engine) Years 01/2010 to 

10/2016
DME / ECU SUPPORT LIST
Mini Cooper Supported ECU's : MEVD1722 & MEVD1727 
MEVD1722
7560766 - 7560767 - 7607683 - 7608339
7611386 - 7611387 - 7612190 - 7612597
7613225 - 7613226 - 7619332 - 7619485
7619333 - 7619486 - 7620984 - 7621374
7620985 - 7621375 - 7627518 - 7639048
7639562 - 7639049 - 7639563 - 7643770
8600123 - 8625070 - 8652744
MEVD1727
7639421 - 7648190 - 8610006

 - 

8652746 

8611439 - 8621261 - 8652747 - 

 

8621260
DME & CAS Removal