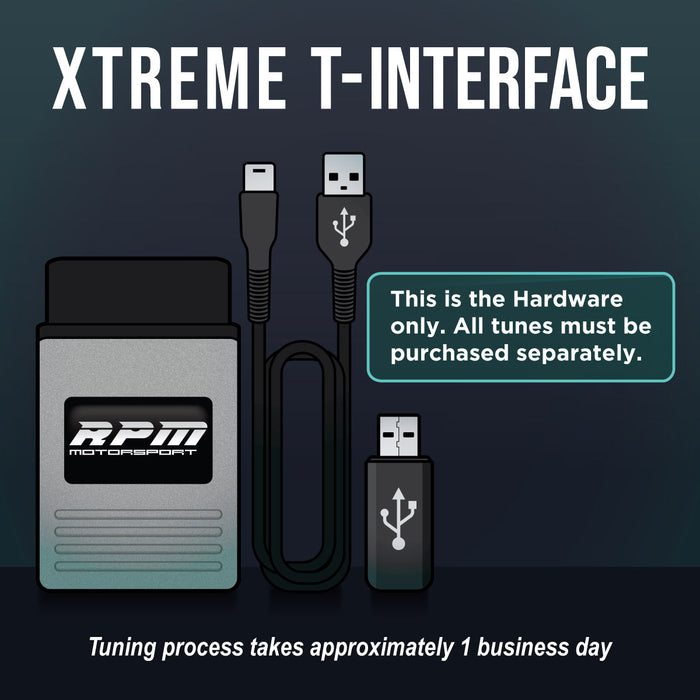 Sales and tech support
As a business owner hands down the best customer service thus far.
We pride ourselves in our cusotmer service and technical support so this is music to our ears! Thanks for the kind words Mirnes :)
Rpm Motorsport Xtreme T-Interface
Save

$0.00 CAD
Save

$-650.00 CAD
Hurry! There are only 3 unit[s] left in stock.
Product Information
The Rpm Motorsport Xtreme T-Interface is a device designed specifically for tuning diesel vehicles. Once the hardware is purchased, this device can be used to read and write tuning files for as many diesel vehicles as needed and you get a discounted price on each tune that you purchase.
How the Process Works:
Once you receive the device, our Xtreme Performance Team will log on to your PC remotely to install the software and set everything up for you.

The Xtreme T-Interface can then be used to ID and read the original file from the vehicle via OBDII.

Email the file to our Xtreme Performance team and the new file is created and sent back to you within 1 business day. 

Write the new file to the vehicle via OBDII using the Xtreme T-Interface device.
What is Included:
Xtreme T-Interface Device that plugs into your OBDII port when reading and writing tuning files.

USB cable used to connect Xtreme T-Interface device to your PC to upload and download tuning files.

USB Stick that is used for Software Installation onto your PC.
Note: Please be advised if less than 5 purchases are made within 1 year a $250.00 CAD subscription renewal fee will apply

Why Become an Agent?
Our Xtreme T-Interface Agents enjoy premium deals and perks such as special pricing, revisions on each tune, direct communication with our Xtreme Performance Team for support and much more. 
If you are looking to offer diesel tuning services for multiple customers for any vehicles in our models supported list below, then becoming an Xtreme T-Interface Agent will provide you with the best pricing and support possible to do so!
Models Supported
Below is a list of the models our Rpm Motorsport Xtreme T-Interface currently supports.