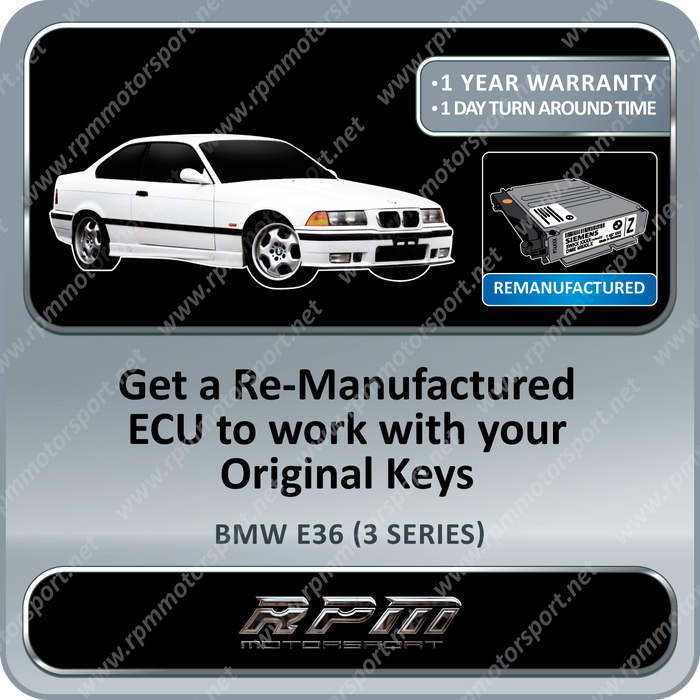 Good service, fair price
DME on our 97 BMW 528i shorted out #6 coil, we replaced the coil but no go, the DME's driver for that coil had failed. RPM had what we needed, in stock, the staff was very helpful, prompt and professional. Can't ask for more.
Thank you Paula! We're looking to hearing from you again soon! :)
Excellent Service
We had the DME in hand less than 48 hours after the order was placed. Customer service was excellent. Threw it in and the car started right up. Thanks again guys.
BMW E36 (3 Series) MS41.1 Remanufactured ECU 04/1996 to 09/1999
Save

$220.00 CAD
Save

$220.00 CAD
Translation missing: en.product.item.price.original
$1,100.00 CAD
Product Information
This is a a Re-Manufactured MS41.1 ECU for a BMW E36 2.8 M52 Years 04/1996 to 09/1999.
We can send this ECU with the following Options:
Un-programmed or Coded (Factory Default).
Programmed and Coded (DME - EWS Alignment Required).
Programmed, Coded and Aligned to your EWS

 

and Keys. (Shipping Required).
Completely Unlocked (Plug and Play).
All Choices can be made by clicking on the "Add to Cart" button found above.
Models supported
BMW 323i E36 3 Series (Coupe) From 1/1996 To 04/1998 M52 Engine
BMW 323i Series E36 3 Series (Convertible) From 1/1997 To 09/1999 

M52 Engine

BMW 328i Series E36 3 Series (Coupe) From 1/1998 To 04/1998 

M52 Engine

BMW 328i Series E36 3 Series (Coupe) From 1/1998 To 09/1998

M52 Engine

BMW 328i E36 3 Series (Convertible) From 04/1996 To 09/1999

M52 Engine
DME / ECU SUPPORT LIST
1429532
1432402
1429896
1429773
1430000
1430144
1430136
1437806
1437807
DME & EWS Removal