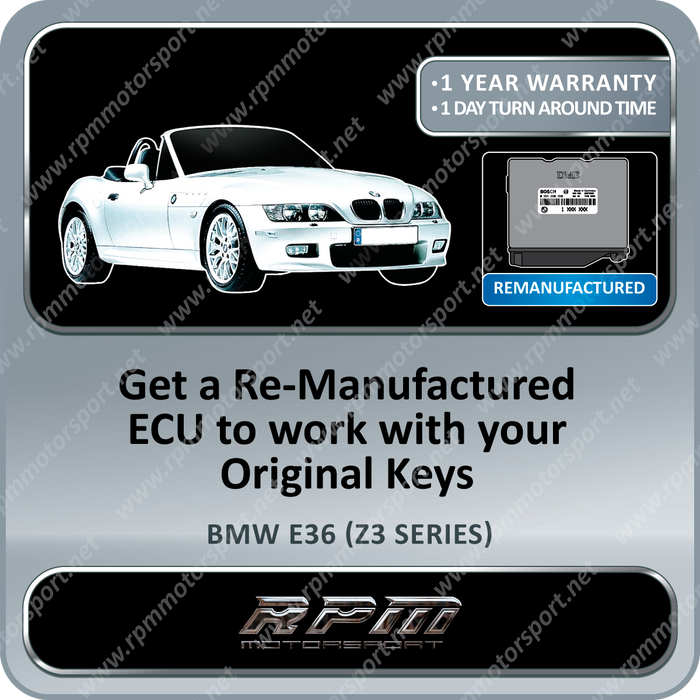 Deliverd fast and exact match
Could not ask for more. This company was spot on and the ecu resolved my issue. Car has been down for 2 years and this fix it in 15 minutes.
Hello Chris,
2 years is a long time indeed! We are happy that we were able to help you out! We're looking forward to serving you again soon!
Started right up
So far, so good. Did exactly what I was told it would. Thanks
BMW E36 (Z3 Series) ME5.2 Remanufactured ECU 01/1996 to 09/1998
Save

$200.00 CAD
Save

$200.00 CAD
Translation missing: en.product.item.price.original
$999.00 CAD
Product Information
This is a Re-Manufactured ECU / DME for a BMW E36 (Z3 Series) 1.9L Years 01/1996 to 09/1998.
We can send this ECU with the following Options:
Un-programmed or Coded (Factory Default).
Programmed and Coded (DME - EWS Alignment Required).
Programmed, Coded and Aligned to your EWS

 

and Keys. (Shipping Required).
Completely Unlocked (Plug and Play).
All Choices can be made by clicking on the "Add to Cart" button found above.
Models Supported
BMW Z3 E36 Years (01/1996 — 09/1998)
Z3 E36, Z3 1.9, Roadster, M44 Engine
Z3 E36, Z3 1.9, Roadster, M44 Engine
DME / ECU Support list
BMW Part Number Supported:
1429640 - 1429788 - 1429862 - 1429891
1429892 - 1429924 - 1429925 - 1430099
1430105 - 1430106 - 1430112 - 1432763 
1432764 - 1433243 - 1433251 - 1433309
1438877 - 1438878 - 1739806 - 1739865
Bosch Numbers Supported: