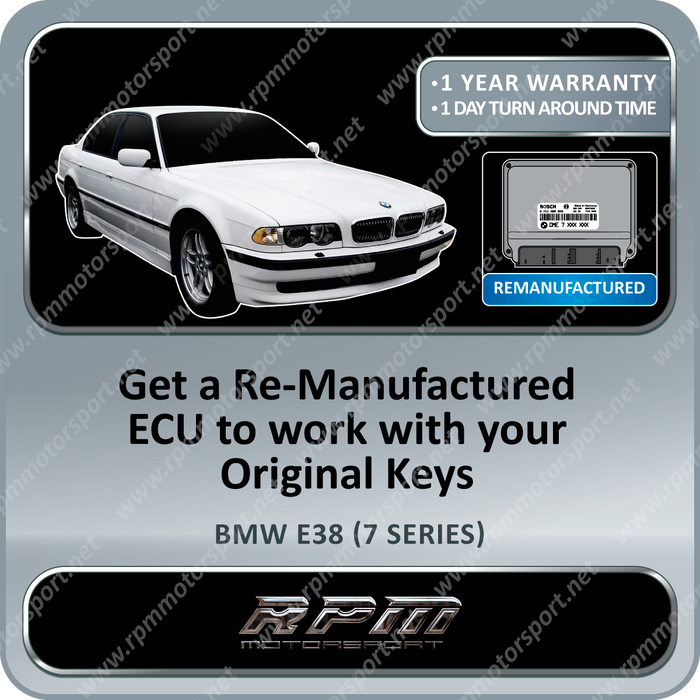 Glad to hear it! Thanks for the feedback :)
On the first crank the car started
I received the package on Friday and I immediately installed it.
To my surprise, on the first crank the car started. Thank you so much for solving a problem in which I had lost hope of fixing. I dont have any codes!!!!! That's awesome!
Thanks again,
Richard
BMW E38 (7 Series) ME5.2.1 Remanufactured ECU 05/1997 to 09/1998
Save

$300.00 CAD
Save

$300.00 CAD
Translation missing: en.product.item.price.original
$1,500.00 CAD
Product Information
This is a Re-manufactured ME5.2.1 DME (ECU) 7 Series E38 or 740i with a M62 Engine Manual Throttle Body. 
We can send this ECU with the following Options:
Un-programmed or Coded (Factory Default).
Programmed and Coded (DME - EWS Alignment Required).
Programmed, Coded and Aligned to your EWS

 

and Keys. (Shipping Required).
Completely Unlocked (Plug and Play).
All Choices can be made by clicking on " Add to Cart " button found below.
Model Support
BMW 7 Series E38 740i 05/1997 To 09/1998
DME / ECU Support list
BMW Part number:
1430228 - 1430261 - 7501733 - 7501734 - 1437284 -1437446
BOSCH Part Number : 
0261204467
DME & EWS Location