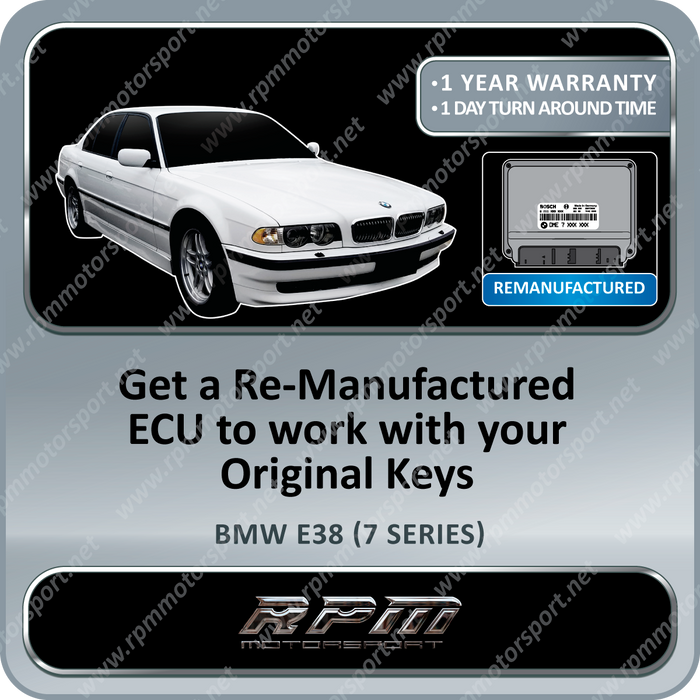 BMW ECU
Excellent product, Fast delivery, Worked great, Will use this company again! Many thanks
Replaced DME
I absolutely recommend RPM to anyone who is looking to replace their old DME, and if you're not sure just email or call they will be more than happy to help you out.
Thanks for your honest feedback Alex.
2001 740il
I have a 2001 740il and my car decided not to start. Water had gotten into the DME and it was bad. So I needed new DME and it would have to be aligned with the EWS and key. The cost would be $1600 plus labor. I have to admit that I was really nervous about ordering something like this from an online shop and I was worried about the company because .....well it's the internet. Well, I decided to give RPM a shot and after speaking to Chris I felt better about the decision. The cost was going to be $975 for everything with a 1 year warranty. So I sent everything to them. Well, these guys really mean business. I mean they work fast and I got my DME, EWS, and keys back within a couple of days and gave everything to my mechanic. Well guess what...... IT WORKED! Let me repeat that! It actually Worked. I was so happy when my mechanic told me the car started up and was running fine. So I just wanted to let anyone know that if you are having this problem that RPM Motorsport is the way to go!
Thanks to ALL at RPM
Thanks to ALL at RPM . after the all the run around i got locally in Trinidad to diagnose the problem with our 2001 735i ( i still never got a straight answer that the DME was bad ) . i ordered the DME and after a mix up with that RPM called and corrected the order and after receiving the right parts yesterday . i plugged everything in and modded my old key to work and after MANY months of this car sitting , first turn of the key the car started right up with no issues .
Razad Ali
BMW E38 (7 Series) ME7.2 Remanufactured ECU 10/1998 to 07/2001
Save

$300.00 CAD
Save

$300.00 CAD
Translation missing: en.product.item.price.original
$1,500.00 CAD
Product Information
This is a Re-manufactured ME7.2 DME (ECU) For a BMW E38 (7 Series) with a M62TU Engine.
We can send this ECU with the following Options:
Un-programmed or Coded (Factory Default).
Programmed and Coded (DME - EWS Alignment Required).
Programmed, Coded and Aligned to your EWS

 

and Keys. (Shipping Required).
Completely Unlocked (Plug and Play).
All Choices can be made by clicking on the "Add to Cart" button found above.
Model Support
BMW 7 Series E38 740i 10/1998 To 07/2001 DME ME7.2 Bosch
DME / ECU Support list
BMW Part number:
1430943 - 1438728 - 7501290 - 7501662
7501679 - 7501680 - 7504862 - 7504902
7506366 - 7506367 - 7506368 - 7506369
7508698 - 7510281 - 7512912 - 7512913
7522222 - 7522223 - 7522700 - 7522702
7522777 - 7522727 - 7522800 - 7522802
7522888 - 7522880 - 7532675 - 7533707
7532676 - 7533708 - 7533032 - 7537699
7533033 - 7537700
Bosch Part number:
0261204620 - 0261207106
DME & EWS Location