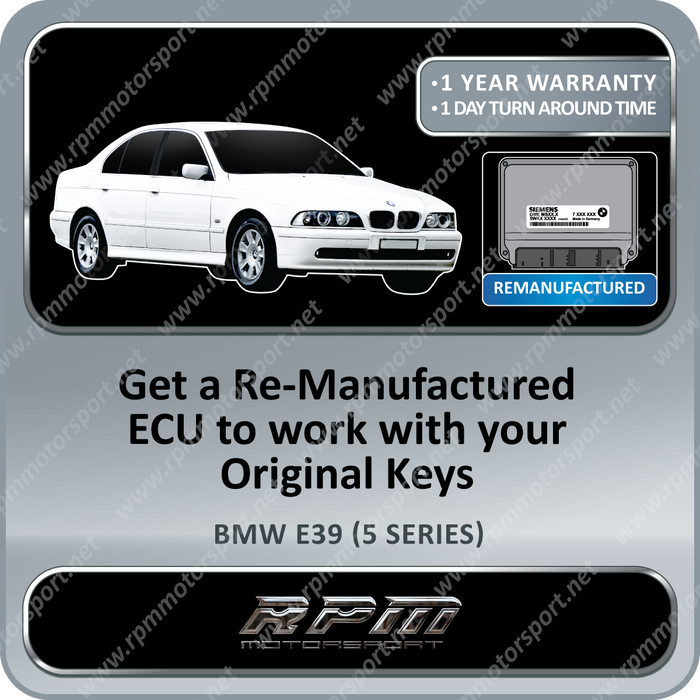 Great service
The shipping was very quick both ways. I had an issue with the DME they sent me but were on top of the issue and had it resloved within 3 days. I am very impressed with their customer service and product.
You guys saved us
We had a 1999 E46 with a bad ECU. We chose a different well known ECU remanufacturer and bought a reman. It would not pair with the car. Came to find out that there are specific issues in pairing the ECU with the anti-theft system on this vehicle. The other reman company shipped parts back and forth 7 or 8 times, each time with us spending untold hours making sure the issue was not in the vehicle, and paying to have the systems synched. We finally found RPM Motorsports, sent the anti-theft module and keys, they quickly sent them back with a reman unit that was plug and play and the vehicle started right up. RPM is clearly the expert on these vehicles. Thank you RPM Motorsports!!
Finally got my car on the road.
After 8 months of immobilizer problems and spending $1,700 (US) at several different BMW dealers my BMW 528i EWS unit would randomly disable my car thus requiring a tow to the dealership and an EWS alignment. The problem was described as a rolling code problem. The dealers were unable to resolve the issue. They replaced the EWS unit two times and haven't solved the problem. The tech support I received from RPM goes far beyond anything I could have imagined. You can't buy the level of support I received. The RPM tech spent a half hour with me on the phone identifying the problem and that was before I had even bought anything. I bought an EWS and DME kit and it was shipped overnight. The tech had me call when I received the unit and he talked me through the installation. It took about 30 minutes and the immobilizer problem that had plagued me for most of a year was resolved. If you have any doubt about their ability to resolve your BMW problem, just give them a call.
Lonnie
BMW E39 (5 Series) MS42 Remanufactured ECU 03/1998 to 10/2000
Save

$200.00 CAD
Save

$200.00 CAD
Translation missing: en.product.item.price.original
$999.00 CAD
Product Information
This is a Re-Manufactured MS42 DME (ECU) For a BMW E39 (5 Series) with a M52 TU Engine.
We can send this ECU with the following Options:
Un-programmed or Coded (Factory Default).
Programmed and Coded (DME - EWS Alignment Required).
Programmed, Coded and Aligned to your EWS

 

and Keys. (Shipping Required).
Completely Unlocked (Plug and Play).
All Choices can be made by clicking on the "Add to Cart" button found above.
Models Supported
BMW 5 Series E39 528i From 03/1998 To 10/2000 DME MS42 Siemens
DME / ECU SUPPORT LIST
1429810 - 1429811 - 1430268 - 1430338

1430273 - 1438787 - 1430671 - 1430672

1430785 - 1430786 - 1430844 - 1430845

4509413 - 7500255 - 7500256 - 7505859

7506345 - 7526753 - 7526754 
DME & EWS Removal