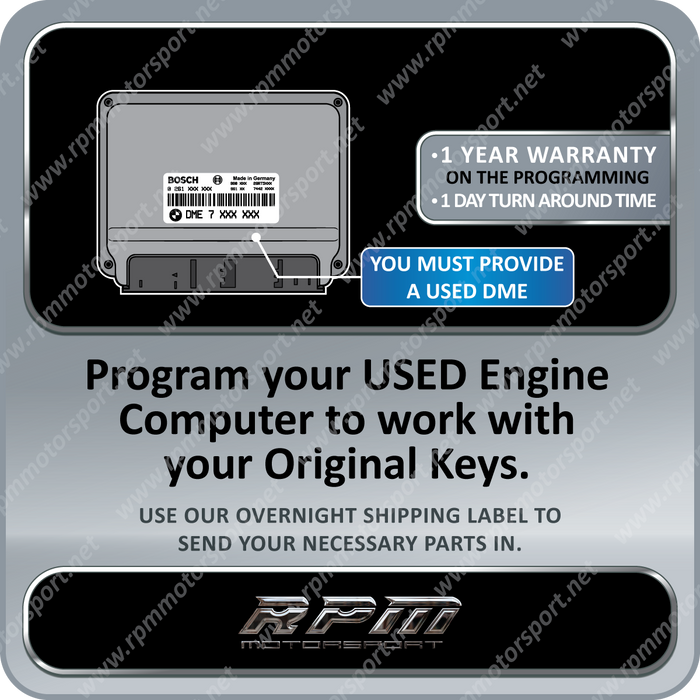 Thank you rpm Motorsport I have very good help
From your team
Thanks for the review Mai!
BMW E39 E38 X5 V8 ME7.2 ME5.2.1 USED DME EWS PROGRAMMING
Great
Fast service and good customer service
NONE
Fast everything worked fine
Top notch work good people to work with
Got the DME back from RPM put it the car and it throws the same miss fire code and fuel shut off, just the same as before. Maybe going to change the engine wiring harness No vacuum leaks every thing else looks good going to keep trying
Hello David,
I went ahead and opened a ticket so we can start the troubleshooting process with you.
BMW E39 E38 X5 V8 ME7.2 USED DME EWS PROGRAMMING
Save

$0.00 CAD
Save

$-399.00 CAD
Product Information
This is a USED DME/ECU programming service for any BMW E39 5 Series / E38 7 Series / X5 with M62TU Engines equipped with ME7.2 DMEs.
Models Supported 
BMW E39 (5 Series) 540i Years 10/1998 to 07/2003 DME ME7.2 Bosch No. 0261204620 - 0261207106

BMW E38 (7 Series) 740i Years 10/1998 to 07/2001 DME ME7.2 Bosch No. 0261204620 - 0261207106
BMW E53 (X5 Series) 4.4i & 4.6 is Years 10/1998 to 07/2003 DME ME7.2 Bosch No. 0261207106
DME/ECU Support list
BMW Bosch supported part numbers:
BMW DME/ECU supported part numbers:
ME7.2 ECU/DME Bosch 0261204620 / 0261207106
1430943 - 1438728 - 7501290 - 7501662
7501679 - 7501680 - 7504862 - 7504902
7506366 - 7506367 - 7506368 - 7506369
7508698 - 7510281 - 7512912 - 7512913
7522222 - 7522223 - 7522700 - 7522702
7522777 - 7522727 - 7522800 - 7522802
7522888 - 7522880 - 7532675 - 7533707
7532676 - 7533708 - 7533032 - 7537699
7533033 - 7537700
DME / EWS Removal