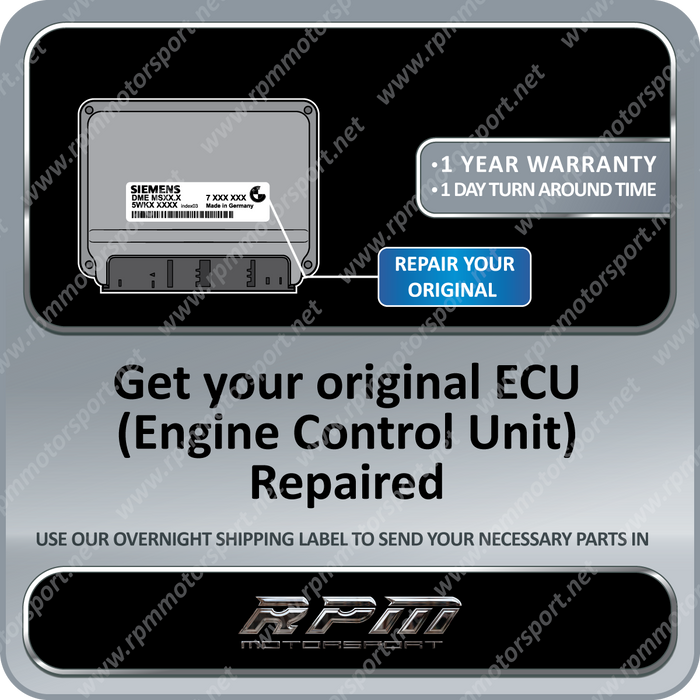 I was very satisfied with the operation that you performed for my DME and cast it worked perfectly and I think you very much and I'm sure I will be using you in the future graham
Thanks for the review Graham!
Quick turnaround
They were honest with the diagnosis and return.
Would use them again at a drop of a hat.
Happy to hear that Steve! Looking forward to working with you again soon!
Reprogrammed the CAS and DME for my Z4
I own a 2009 BMW Z4. The battery had gone dead and that caused all sorts of problems. I replaced the battery but then the car would turn over but not start. I took the car to two local repairs shops that work on BMWs and they were not able to get it running. All they were able to determine was my car was in lock out due to the anti-theft being triggered. Their "solution" for the problem was to replace the CAS and probably the DME also. VERY expensive and the parts were back ordered. It would be at least 2 or 3 months before the parts were available, if then. I did some research and found a number of sites that claimed to be able to reprogram the CAS and DME to resolve the problem and RPM Motorsports stood out due to their references. I called them and ended up working with Lee. He was fantastic. I explained the problem and he diagnosed the problems and the fix which involved reprogramming the CAS and DME so they were properly sync'd. Lee explained they would send me an overnight shipping label that I would use to send the CAS, DME, and key fob to them. I received an email with the UPS label attachment and printed it out and took the package to UPS. 3 days later I received the reprogrammed CAS and DME and key fob. Installed them and the car started immediately and there were no other problems. Everything worked as it should. Lee in particular and RPM in general were great to work with and I would highly recommend contacting them if you have problems with your BMW. The service was great and they know what they are doing and the price was extremely reasonable.
Thanks so much for sharing your experience and for the kind words Jim!
BMW DMW repair
Works grate thanks a lot for grate and fast service, its actually nice to talk with real person thanks.
Thanks for the positive review!
2005 BMW325 CI
I couldn't have asked for a better outcome or better customer service !!!
thank you
BMW E39 E46 Z3 X3 X5 Z4 ME9.2 MS42 MS43 MS45.1 MS45.0 EWS3.3 anti-tampering protection
Save

$0.00 CAD
Save

$-625.00 CAD
Product Information
This is a BMW Repair Service for any BMW E36 Z3 Series / E46 3 Series / E39 5 Series / X3 / X5 / Z4 with M52TU / M54 and M56 Engines equipped with MS42 / MS43 / MS45.0 / MS45.1 / ME9.2 DME's and have the following BMW Fault codes: 
Popular Fault Codes
2737 -- DME: EWS3.3 anti-tampering protection
27A4 - EWS interface DME
D1 Anti tampering protection code
EWS DME message incorrect
Immobilizer anti tampering protection
Models Supported
BMW 3 Series 2.5i Z3 Roadster 09/1998

 

06/2000 M52TU Engine MS42 DME/ECU
BMW 3 Series 2.8i Z3 Roadster 09/1998

 

06/2000 M52TU Engine MS42 DME/ECU
BMW 3 Series 3.0i Z3 Roadster 09/1999

 

06/2002 M52TU Engine MS43 DME/ECU
BMW 3 Series 328i E46 1999 to 2000 M52TU Engine MS42 DME/ECU
BMW 3 series 330i / 330Ci E46 2000 to 2003 M54 Engine MS43 DME/ECU 


BMW 3 series 330i / 330Ci E46 2003 to 2006 M54 / M56 Engine MS45.1 DME/ECU 

BMW 5 Series 528i E39 1999 to 2000 M52TU Engine MS42 DME/ECU

BMW 5 series 530i E39 2000 to 2003 M54 Engine MS43 DME/ECU

BMW X3 E83, X3 3.0i, SUV, 2003 to 2006 M54 Engine MS45.1 / MS45.0 DME/ECU

BMW X5 Series E53 3.0L 11/1999 To 06/2006 M54 Engine MS43 DME/ECU

BMW Z4 E85, Z4 2.5i, Roadster, M54 Engine MS45.0 DME//ECU
BMW Z4 E85, Z4 3.0i, Roadster, M54 Engine MS45.0 DME//ECU
BMW X5 Series E53 4.4i From 10/2003 To 09/2004

ME9.2 DME

BMW X5 Series E53 4.4i or 4.8is From 10/2004 To 09/2005 

ME9.2 DME
DME / ECU SUPPORT LIST
MS42 DME/ECU Supported Part Numbers with M52TU Engines:
1429810 - 1429811 - 1430268 - 1430338

1430273 - 1438787 - 1430671 - 1430672

1430785 - 1430786 - 1430844 - 1430845

4509413 - 7500255 - 7500256 - 7505859

7506345 - 7526753 - 7526754 
MS43 DME/ECU Supported Part Numbers with M54 Engines:
7509942 - 7511570 - 7518111 - 7519308
7519309 - 7520873 - 7527919 - 7530854
7530855 - 7528050 - 7528051 - 7536649
7536649 - 7536650 - 7545150 - 7545200
7551615 - 7551616 - 7571016 - 7571289

7571017 - 

7571290 - 7572342 - 7572371
MS45.1 DME/ECU Supported Part Numbers with M54 / M56  Engines:
7512523 - 7514833 - 7527015 - 7522584
7523810 - 7525937 - 7526791 - 7527110
7524718 - 7530211 - 7531500 - 7531442
7532142 - 7532903 - 7533652 - 7533654
7541336 - 7541344 - 7543158 - 7543224
7548770 - 7548772 - 7549388 - 7549391
7549795 - 7561382 - 7561383
MS45.0 DME/ECU Supported Part Numbers with M54 / M56  Engines:
7541343 - 7513279 - 7513280 - 7522770
7522771 - 7526000 - 7526001 - 7527000
7527001 - 7527072 - 7526790 - 7527730
7527731 - 7530260 - 7532902 - 7531440
7531441 - 7532140 - 7532141 - 7533651
7533653 - 7541335 - 7541343 - 7543157
7543223 - 7548769 - 7548771 - 7549387
7549390 - 7549792 - 7549794 - 7561380
Bosch ECU Part Number Support list :
BMW ECU Part Number Support list :

7516428 - 7516432 - 7518102 - 7518103
7520435 - 7520436 - 7520929 - 7520930
7521368 - 7521369 - 7523368 - 7523369
7523523 - 7523524 - 7529326 - 7529327
7540760 - 7540761 - 7570962 - 7570963
7523080 - 7523081 - 7530450 - 7530450
7540510 - 7540511 - 7540550 - 7540551
7540600 - 7540601 - 7544610 - 7544611
7545580 - 7545580 - 7553650 - 7553650
7571907 - 7571907 - 4518200 - 4518200
7542250 - 7542300 - 7542301 - 7552310
7552311 - 7555400 - 7555401 - 7556340
7556341 - 7563465 - 7563466 - 7567783
7576749 - 7576750 - 7580925 - 7580926
7580931 - 7580933 - 7583689 - 7583690
7584814 - 7587146 - 7587147 - 7587152
7587153 - 7543300 - 7543500 - 7543501
7548550 - 7543501 - 7548600 - 7548601
7549450 - 7549450 - 7549700 - 7549701
7566706 - 7566725 - 7547500 - 7547501
7558300 - 7558400 - 7558401 - 7567353
7567353 - 7568889 - 7568900 - 7572057
7572058 - 7573165 - 7573166 - 7573601
7573736 - 7575000 - 7575001 - 7576551
7576552 - 7577029 - 7577030 - 7577615
7577616 - 7577664 - 7577665 - 7582306
7582307 - 7584235 - 7586909 - 7586910
7599046 - 7599047 - 7600923 - 7600924 
DME / EWS Removal