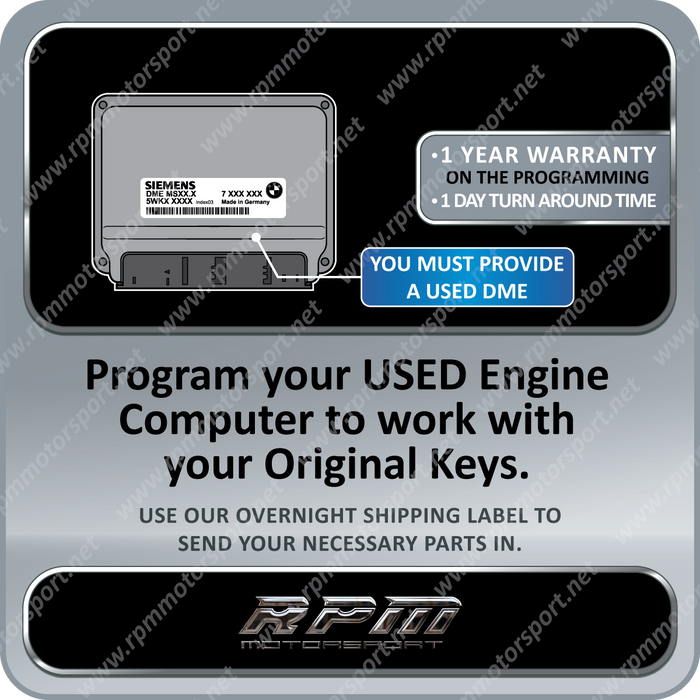 Programming my ECU
The work went great. So far the car is working normal with no issues.
Thank you so much
Glad to hear the car is back on the road James!
Excellent Customer Service and Products!!!
My second time using this group. Excellent customer service and even more excellent troubleshooting when necessary to resolve any issue. Thank you again guys for a job well done! Revived another dead BMW :)
Thanks for the great review Don!
Another fixed veichle
Lee and everybody did it again,one more car gone I got paid,customer happy,win for all concerned,thanks
No brainer
Again we were able to replace the dme for a fraction of the cost. Works great, thanks you guys
Hello Stuart,
Anytime man! Thank you for reaching out to us!
Great Service
Was told by my BMW repair shop that my e46 DME was bad and they quoted me $2000 to replace it. I purchased a used DME from eBay for $40 and shipped it over along with my key and EWS. Received my "new" DME back within a few days and it fired right up. Unfortunately it did not resolve my issue ( apparently the DME is not the culprit after all ), but that is not the fault of RPM, they did what they were supposed to do and I would highly recommend them!
Hello Ben,
We are so glad that we saved you big $$$. We're looking forward to hearing from you again soon!
BMW E39 E46 Z3 X3 Z4 MS42 MS43 MS45.1 MS45.0 USED DME EWS PROGRAMMING
Save

$0.00 CAD
Save

$-499.00 CAD
Product Information
This is a USED DME/ECU programming service for any BMW E36 Z3 Series / E46 3 Series / E39 5 Series / X3 / X5 / Z4 with M52TU / M54 and M56 Engines equipped with MS42 / MS43 / MS45.0 / MS45.1 DME's.
Models Supported
BMW 3 Series 2.8i Z3 Roadster 09/1998

 

06/2000 MS52TU Engine MS42 DME/ECU
BMW 3 Series 3.0i Z3 Roadster 09/1999

 

06/2002 MS52TU Engine MS43 DME/ECU
BMW 3 Series 328i E46 1999 to 2000 M52TU Engine MS42 DME/ECU
BMW 3 series 330i / 330Ci E46 2000 to 2003 M54 Engine MS43 DME/ECU 


BMW 3 series 330i / 330Ci E46 2003 to 2006 M54 / M56 Engine MS45.1 DME/ECU 

BMW 5 Series 528i E39 1999 to 2000 M52TU Engine MS42 DME/ECU

BMW 5 series 530i E39 2000 to 2003 M54 Engine MS43 DME/ECU

BMW X3 E83, X3 3.0i, SUV, 2003 to 2006 M54 Engine MS45.1 / MS45.0 DME/ECU

BMW X5 Series E53 3.0L 11/1999 To 06/2006 M54 Engine MS43 DME/ECU

BMW Z4 E85, Z4 2.5i, Roadster, M54 Engine MS45.0 DME//ECU
BMW Z4 E85, Z4 3.0i, Roadster, M54 Engine MS45.0 DME//ECU
DME / ECU SUPPORT LIST
MS42 DME/ECU Supported Part Numbers with M52TU Engines:
1429810 - 1429811 - 1430268 - 1430338

1430273 - 1438787 - 1430671 - 1430672

1430785 - 1430786 - 1430844 - 1430845

4509413 - 7500255 - 7500256 - 7505859

7506345 - 7526753 - 7526754 
MS43 DME/ECU Supported Part Numbers with M54 Engines:
7509942 - 7511570 - 7518111 - 7519308
7519309 - 7520873 - 7527919 - 7530854
7530855 - 7528050 - 7528051 - 7536649
7536649 - 7536650 - 7545150 - 7545200
7551615 - 7551616 - 7571016 - 7571289

7571017 - 

7571290 - 7572342 - 7572371
MS45.1 DME/ECU Supported Part Numbers with M54 / M56  Engines:
7512523 - 7514833 - 7527015 - 7522584
7523810 - 7525937 - 7526791 - 7527110
7524718 - 7530211 - 7531500 - 7531442
7532142 - 7532903 - 7533652 - 7533654
7541336 - 7541344 - 7543158 - 7543224
7548770 - 7548772 - 7549388 - 7549391
7549795 - 7561382 - 7561383
MS45.0 DME/ECU Supported Part Numbers with M54 / M56  Engines:
7541343 - 7513279 - 7513280 - 7522770
7522771 - 7526000 - 7526001 - 7527000
7527001 - 7527072 - 7526790 - 7527730
7527731 - 7530260 - 7532902 - 7531440
7531441 - 7532140 - 7532141 - 7533651
7533653 - 7541335 - 7541343 - 7543157
7543223 - 7548769 - 7548771 - 7549387
7549390 - 7549792 - 7549794 - 7561380
DME / EWS Removal