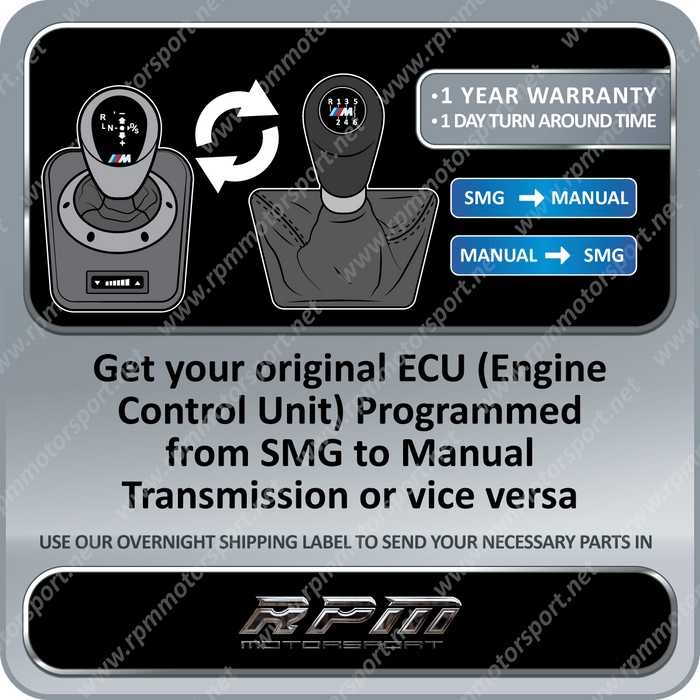 AWESOME JOB DONE BY RPM MOTORSPORT
They were very helpful even before I payed for service. Really quick turnaround time.
Hello Hyungju,
Thank you for pointing that out! Customer always comes first even before the transaction :) We're looking forward to hearing from you again soon!
BMW E46 M3 S54 MSS54 SMG to Manual Transmission Conversion Software
Save

$0.00 CAD
Save

$-499.00 CAD
Product Information
This is a BMW Transmission Conversion Software for a E46 M3 with a S54 engine equipped with DME MSS54 / MSS54HP.
Models supported
BMW 3 Series E46 M3 1999 to 2004 DME MSS54 (S54 Engine)
BMW 3 Series E46 M3 2004 to 08/2006 DME MSS54HP (S54 Engine)
DME / ECU support list
BMW M3 (MSS54 / MSS54HP) Supported ECU's:
7831815 - 7832207 - 7832594 - 7832642
7832868 - 7832899 - 7833145 - 7833147
7833284 - 7833286 - 7833892 - 7833893
7834326 - 7834327 - 7834530 - 7834531 
7834910 - 7834911 - 7834981 - 7834982 
7835564 - 7835565 - 7835584 - 7835585 
7836454 - 7836455 - 7837340 - 7837341 
7837805 - 7837806 - 7837941 - 7837942 
7838801 - 7838802
DME / EWS Removal