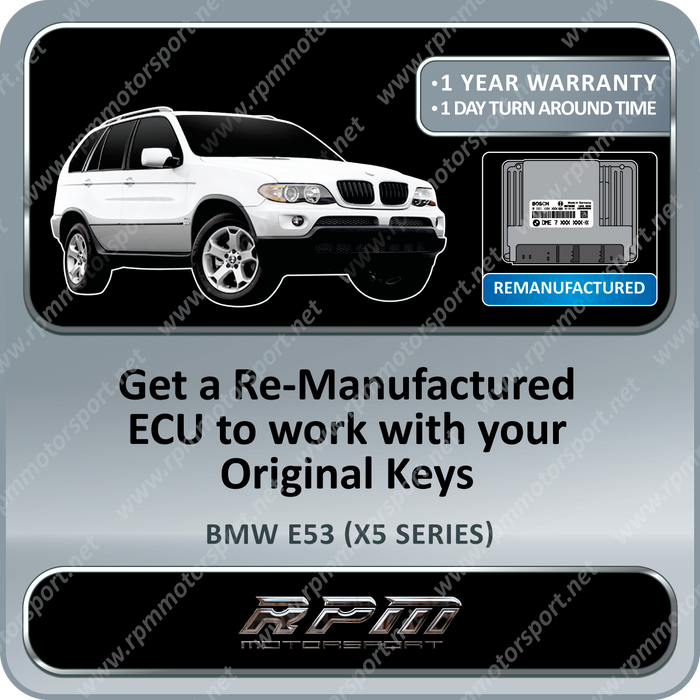 DME replacement
As always, your team is the best and really fast shipping too. Thanks
545I DME replacement
These guys are absolutely awesome. I literally was quoted at over 4 times the amount and time frame for getting work done was months if anyone would even do it. Sent them my dme and had it back and in my car within days. Started right up.
Hi Elijah,
Thank you for taking the time out to write this awesome review! Looking forward to hearing from you again soon!
Our only source for DME replacements
We have been doing business with RPM for many years and have never had an issue with quality or service. Top notch!!
Hello Bryan,
It's awesome to hear back from our customers that we've worked with and known for years! We are happy that you're happy! Looking forward to hearing from you again soon!
Todd G. from Watford, Ontario, Canada
Too all the Folks at Rpm...Iam taking a moment too Thank Zac,Gabe ,Chris n Iam sure I've missed somebody.Thankyou For all your assistance In completing My resent order of A Dme. ...Even thou You didn't Receive My package Until Fri...You still had My new Dme programmed n aligned n shipped out the Same Fri.Iam Joyval over the fact of the turn around time n the excellent experience n Service that You have provided For Me...Iam very anticipatory with regards too Plugging n Playing my new Dme into my Car N Hopeful that it will Cure most of the issues Iam Having. ..
.Thx. Again Guys, Amazing Job n Service. ......Best regards...... Todd
545i BMW main computer
Super fast shipment. Very pleased with communication,answered all my questions! Pleasure to do business with . Computer works just fine! Thank's!
BMW E53 (X5 Series) ME9.2 Remanufactured ECU 10/2004 to 09/2006
Save

$380.00 CAD
Save

$380.00 CAD
Translation missing: en.product.item.price.original
$1,900.00 CAD
Hurry! There are only 4 unit[s] left in stock.
Product Information
This is a NEW / RMFD DME (ECU) Bosch Number 0261209020 / 0261209083 DME (ECU) For a E53 (5 Series) 4.4i and 4.8is With a N62 Engine Years 10/2004 To 09/2006
We can send this ECU with the following Options:
Un-programmed or Coded (Factory Default).
Programmed and Coded (DME - EWS Alignment Required).
Programmed, Coded and Aligned to your EWS

 

and Keys. (Shipping Required).
Completely Unlocked (Plug and Play).
All Choices can be made by clicking on the "Add to Cart" button found above.
Models Supported
BMW X5 Series E53 Sedan 4.4i From 10/2004 To 09/2006 DME Bosch 0261209020 or

0261209083

.
BMW X5 Series E53 Sedan 4.8is From 10/2004 To 09/2006 DME Bosch 0261209020 or

0261209083

.
DME / ECU SUPPORT LIST
BMW Part Number:
7542250 - 7542300 - 7552310 - 7552311

7556340 - 7556341 - 7555400 - 7555401
Bosch Part Number:
DME & EWS Removal