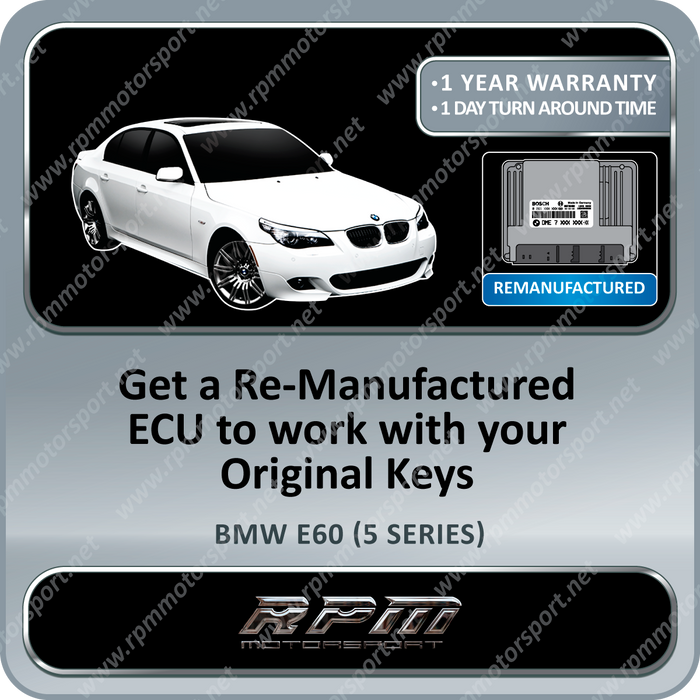 Excellent customer service!
This was my first time dealing with Rpm. I am very pleased with the knowledge of available parts for my vehicle. I was given options of want I could do, I source my own parts or buy from RPM. I dealt with Lee, it's a definite 5 star customer service! I will be doing business in the future
Thanks for the awesome review Don! We really appreciate it!
Happy camper
Everything from phone call to product delivery and quality of product was outstanding!
Hello Ken,
Thank you so much for your kind words!
BMW E63 E64 (6 Series) N62 NEW ECU DME Years 03/2005 To 07/2007
I really appreciate you guys work
Hi there.
I just want to say thank you. I really appreciate you guys work. I plugged DME to my car then sync with the CAS. The car is start right away. Car had been park for long time.
Thank again.
Kenny
BMW E60 (5 Series) ME9.2 Remanufactured ECU 02/2005 to 02/2007
Save

$300.00 CAD
Save

$300.00 CAD
Translation missing: en.product.item.price.original
$1,500.00 CAD
Product Information
This is a Re-Manufactured Bosch DME / ECU For a E60 (5 Series) 550i With a N62N Engine.
We can send this ECU with the following Options: 
Un-programmed or Coded (Factory Default).
Programmed and Coded (CAS-DME Alignment Required).
Programmed, Coded and Aligned to your CAS and Keys (Shipping Required).
Completely Unlocked (Plug and Play).
All Choices can be made by clicking on the "Add to Cart" button found above.
Models Supported
BMW 5 Series E60 Sedan 550i From 02/2005 To 02/2007 DME Bosch 0261209092 or 0261209093 .
DME / ECU Support list
BMW Part Number:

7543300 - 7543300 - 7543500 - 7543501
7548550 - 7548600 - 7548601 - 7549450
7549450 - 7549700 - 7549701 - 7566706
7566725 .

Bosch Part Number:
0261209092 - 0261209093
DME & CAS Removal