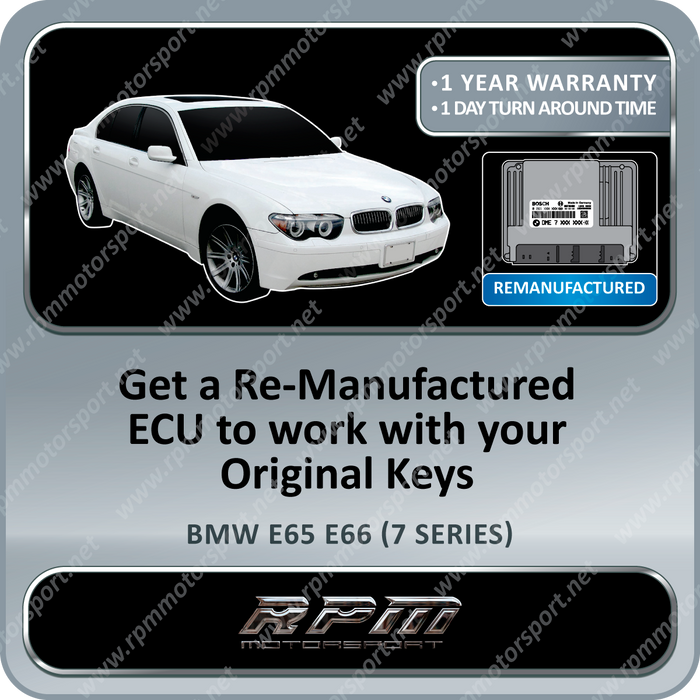 BMW X5 ECM
The people were great to talk to. They were easy to deal with and answered every question I had. The only issue that I have is when I received the new ECM from RPM and installed it into my X5 my engine is now in limp mode. It idles at 1000 rpms and when I just touch the throttle it cuts out. It says engine in limp mode on my message center.
Hi Richard,
This is quite normal as you will always need a Fault code reader to read and clear the fault codes, if the fault codes that you cleared are still there then we need to focus on those particular codes. 9 out of 10 once you clear the codes they never come back unless you have another issue with the vehicle. I will have our support team reach out today, please try to have those fault codes handy so they can easily help you. Remember you have a 1 Year warranty on the ECU, if they feel its an ECU issue, they will replace it right away.
Cheers
Mike
BMW E65 E66 (7 Series) ME9.2 Remanufactured ECU 01/2005 to 09/2007
Save

$300.00 CAD
Save

$300.00 CAD
Translation missing: en.product.item.price.original
$1,500.00 CAD
Hurry! There are only 3 unit[s] left in stock.
Product Information
This is a Re-Manufactured Bosch DME / ECU For a E65 (7 Series) 750i With a N62N Engine.
We can send this ECU with the following Options: 
Un-programmed or Coded (Factory Default).
Programmed and Coded (CAS-DME Alignment Required).
Programmed, Coded and Aligned to your CAS and Keys (Shipping Required).
Completely Unlocked (Plug and Play).
All Choices can be made by clicking on the "Add to Cart" button found above.
Models Supported
BMW 7 Series E65 E66 Sedan 750i From 01/2005 To 09/2007 DME Bosch 0261209092 .


BMW 7 Series E65 E66 Sedan 745Li From 01/2005 To 09/2007 DME Bosch 0261209092 .
DME / ECU SUPPORT LIST
BMW Part Number:

7543300 - 7543300 - 7543500 - 7543501
7548550 - 7548600 - 7548601 - 7549450
7549450 - 7549700 - 7549701 - 7566706
7566725 

Bosch Part Number:
DME & CAS Removal