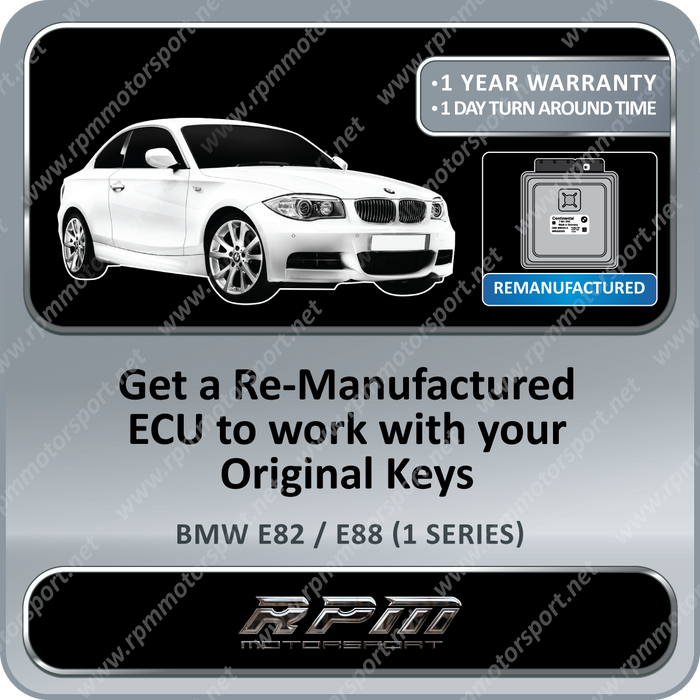 Fixed my problem as advertised
Their programmed remanufactured DME got my car back up and running after my stock DME failed.
Great service and very quick turnaround. Highly recommend!!!
Hello Sean,
We are stoked that we were able to fix your issue. We're looking forward to serving you again soon! :)
BMW E60 (5 Series) MSD80 Re-Manufactured ECU 08/2006 to 08/2008
BMW E90 E92 (3 Series) MSD80 Re-Manufactured ECU DME 08/2006 to 08/2008
one of the best companies that could be created for owners of bmw, 3300 that the dealer was charging me for a dme with them I found it at a much lower price, plug and play, without problems from the first moment, no check engine and with a super excellent and fast service, be really happy 👍👍
Thanks!
sometimes one word says it all :)
BMW E82 E88 (1 Series) MSD80 Remanufactured ECU 01/2007 to 08/2008
Save

$300.00 CAD
Save

$300.00 CAD
Translation missing: en.product.item.price.original
$1,500.00 CAD
Product Information
This is a Re-Manufactured MSD80 Engine Control Unit (DME / ECU) for a E82 / E88 (1 Series) (Coupe) / (Convertible) With a N54 Engine.
We can Program this ECU with the following Options: 
Transfer your Original ECU DATA to the Re-Manufactured ECU. (Shipping Required).
Program & Code the Re-Manufactured ECU and Align it to your CAS Module & Keys. (Shipping Required).
Completely Unlocked (Plug and Play).
All Choices can be made by clicking on the "Add to Cart" button found above.
Models Supported
BMW 1 Series E82 135i (Coupe) from 01/2007 to 09/2008 DME MSD80 Siemens
BMW 1 Series E88 135i (Convertible) from 02/2008 to 09/2008 DME MSD80 Siemens
DME / ECU SUPPORT LIST
DME Supported Part Number (Siemens MSD80)
7546141  -  7550014  -  7565859  -  7565860
7567229  -  7567232  -  7567491  -  7567492
7567542  -  7567543  -  7568370  -  7568371
7568842  -  7568843  -  7569978  -  7569979
7571468  -  7571469  -  7572063  -  7572064 
7572067  -  7572068  -  7573796  -  7573797
7573863  -  7573864   -  7574534  -  7574535 
7575875  -  7575876  -  7576719  -  7576720 
7576721  -  7576722  -  7578020  -  7578021 
7578441  -  7578442  -  7583332  -  7583333 
7586938  -  7586939  -  7586940  -  7586954 
7588620  -  7588621  -  7594305  -  7594306 
7595235  -  7595236  -  7596017  -  7596018
7611396  -  7611397 
DME & CAS Removal