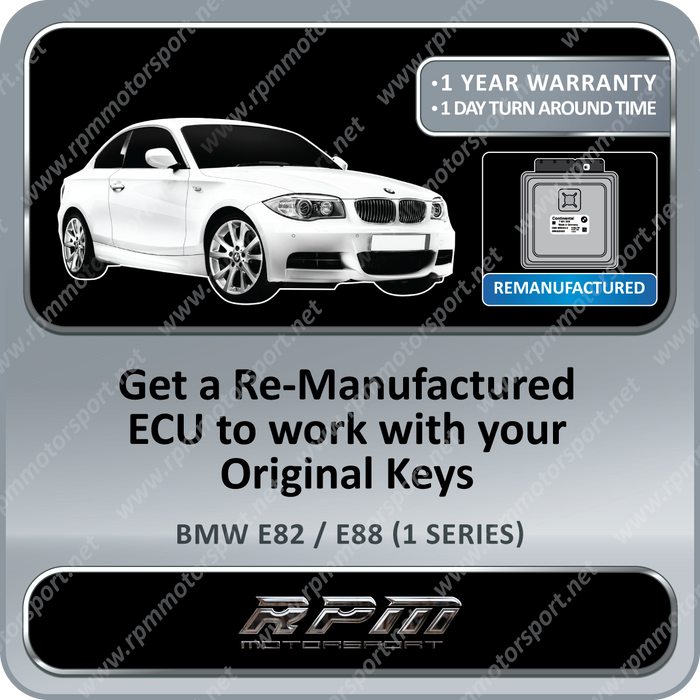 BMW E60 (5 Series) MSD81 Re-Manufactured ECU DME 09/2008 to 12/2009
Delivered as promised
They were able to provide a new replacement DME and married it up to existing CAS module and keys. Did exactly what they said they could do and was a plug and play install.Will be using them again in the future.
Shop owner-
Hello Rick,
We are stoked that we met your expectations! Thank you for putting your trust in us! We're looking forward to hearing from you again soon!
BMW E60 (5 Series) MSD81 Re-Manufactured ECU DME 09/2008 to 12/2009
BMW E82 / E88 135i (1 Series) MSD81 Remanufactured ECU DME
Save

$400.00 CAD
Save

$400.00 CAD
Translation missing: en.product.item.price.original
$2,000.00 CAD
Hurry! There are only 1 unit[s] left in stock.
Product Information
This is a Re-Manufactured MSD81 Engine Control Unit (DME / ECU) for a E82 / E88 (1 Series) (Coupe) / (Convertible) With a N54 Engine.
We can Program this ECU with the following Options: 
Transfer your Original ECU DATA to the Re-Manufactured ECU. (Shipping Required).
Program & Code the Re-Manufactured ECU and Align it to your CAS Module & Keys. (Shipping Required).
Completely Unlocked (Plug and Play).
All Choices can be made by clicking on " Please Choose Your Options " button found below.
Parts to be sent if original DME Communicates: 
Parts to be sent if DME is NOT communicating:
Models Supported
BMW 1 Series E82 135i (Coupe) From 01/2007 To 10/2013 DME MSD81 Siemens
BMW 1 Series E88 135i (Convertible) From 02/2008 To 10/2013 DME MSD81 Siemens
DME / ECU SUPPORT LIST
DME Supported Part Number (Siemens MSD81)
7578033  -  7578034  -  7579011  -  7579012
7583324  -  7583325  -  7585540  -  7585541
7585711  -  7585712  -  7585889  -  7585890
7586933  -  7586934  -  7590871  -  7590872
7592080  -  7592081  -  7593493  -  7593494
7596019  -  7596020  -  7596022  -  7596021
7600427  -  7600428  -  7601865  -  7601866 
7602118  -  7602119  -  7604567  -  7604568
7604593  -  7604594  -  7605662  -  7605663 
7608621  -  7608622  -  7611358  -  7611359
7612455  -  7612456  -  7614620  -  7614620 
7616431  -  7616432  -  7618935  -  7618936
7622911  -  7622912
DME & CAS Removal