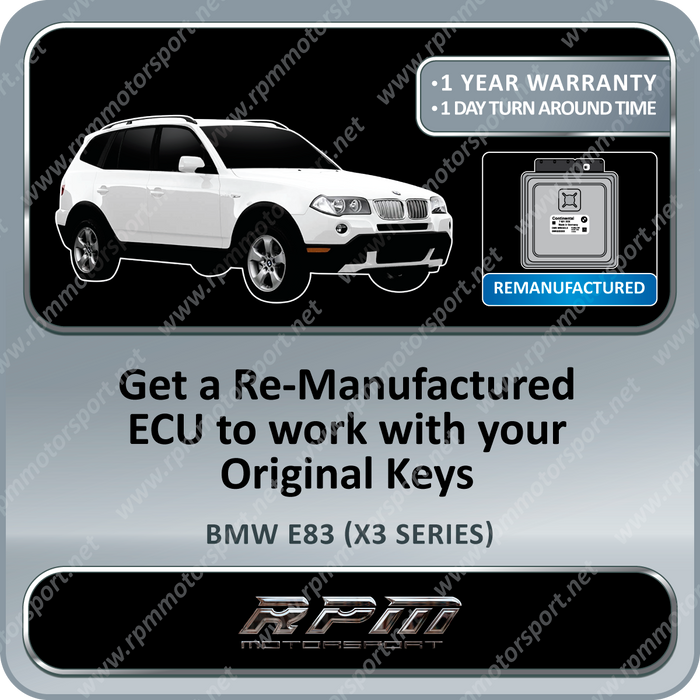 bmw dme
Once again you guys hit it out of the park !!! Thanks for the very quick service Pleasure doing business with you Thanks again Mike
Glad to hear that Mike! Thanks a lot for taking the time to write a review, we really appreciate it! The pleasure is all ours :)
Great service as always
Jeff and the rest of crew at RPM are always helpful and quick with turn around time
Always awesome....
The only delay was on my part in giving them the correct DME version number. I gave that information at about 12 noon and received my DME from them the next day by noon. How can you beat that? You can't.....Always great service from these guys and not my first review for them. Chad
FAST DELIVERY AND GREAT SERVICE!
we received the module in no time and it was in excellent working condition, we will be using this company for any modules that we need for our BMW customers thank you guys!
Hello Janeth,
We're happy that everything worked as planned. Thank you for your kind words!
I will use RPM again
I have used RPM two times now and each time they are very helpful, well informed and crazy quick getting the product to you, Their excellent service helps me provide excellent service to my customers. Yes I will use them again for sure, Craig Hammond Autowerks
Hello Craig,
It's always a pleasure working with you! We're happy when your customers are happy! :)
BMW E83 (X3 Series) MSV80.1 Remanufactured ECU 03/2006 to 08/2010
Save

$250.00 CAD
Save

$250.00 CAD
Translation missing: en.product.item.price.original
$1,250.00 CAD
Hurry! There are only 3 unit[s] left in stock.
Product Information
This is a Re-Manufactured MSV80 Engine Control Unit (DME / ECU) For a BMW E83 (X3 Series) With a N52N Engine.
We can Program this ECU with the following Options: 
Transfer your Original ECU DATA to the Re-Manufactured ECU. (Shipping Required).
Program & Code the Re-Manufactured ECU and Align it to your EWS Module & Keys. (Shipping Required).
Completely Unlocked (Plug and Play).
All Choices can be made by clicking on the "Add to Cart" button found above.
Models supported
 BMW X3 E83 LCI, X3 3.0i, SUV, 03/2006 To 08/2010 N52N Engine MSV80.1 Siemens DME.
 BMW X3 E83 LCI, X3 3.0si, SUV, 03/2006 To 08/2010 N52N Engine  MSV80.1 Siemens DME.
DME / ECU SUPPORT LIST
DME Supported Part Number (Siemens MSV80.1)
7567609  -  7567610  -  7569989  -  7573332
7574542  -  7574543  -  7574546  -  7574547
7575500  -  7575501  -  7576670  -  7576671
7581126  -  7581127  -  7581547  -  7581548
7583526  -  7583527  -  7584309  -  7584310
7587166  -  7587167  -  7591843  -  7591844
7594485  -  7594486  -  7597425  -  7597426
7602216  -  7602217  -  7605423  -  7605424
7609658  -  7609659  -  7611282  -  7611283
7614362  -  7614363  -  7624052  -  7624053
7629046  -  7639647  -  8613002
DME & EWS Removal