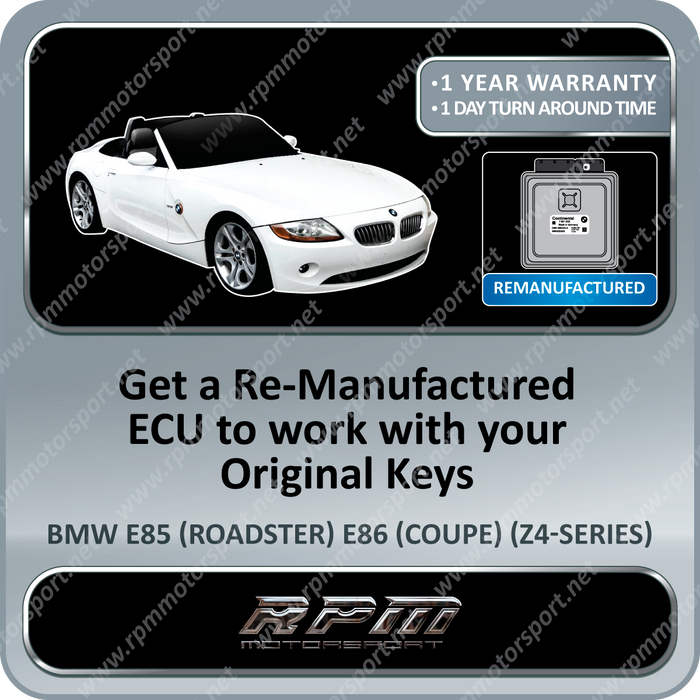 BMW E60 (5 Series) MSV70 Re-manufactured ECU 02/2005 to 02/2007
100% of what they promised!
They did exactly what they promised and it worked great. Will use them again and again. Thanks.
BMW DME GENIUS
These guys are on point and very professional. Great Customer Service and fast turn around. They are able to program/ re-flash DMEs and DDEs that most shops and dealers would not be able to do. They understand the situation. Their expertise is much appreciated. We have used them multiple times. You will save a lot of time and money.
Awesome service.
A customer required a new DME in his BMW due to water ingress that caused the DME to fail. We sourced a DME with help from Gabe at RPM. We saved a significant amount and was able to pass the savings onto the customer. Programming was seamless with BMW ISTA. Thank you. James Hart - North Shore Motor Werks Peabody, MA
Thank You
By this mean I want to thank you guys, all the support given it to me all this time, My DME is working properly, despite my doubts at first I am very grateful with you and RPM Motorsport, thank for your honesty, I'm sure that I will recommend you 100%.
God bless you guys.
I noted that you receive the bad DME, the first one, please I will appreciate your feedback regarding the root cause of damage.
Edgar Perez Lopez
BMW E85 E86 (Z4 Series) MSV70 Remanufactured ECU 02/2005 to 08/2008
Save

$220.00 CAD
Save

$220.00 CAD
Translation missing: en.product.item.price.original
$1,100.00 CAD
Product Information
This is a Re-Manufactured MSV70 DME (ECU) For a E85 (Z4 Series) With a N52 Engine. 
We can send this ECU with the following Options:
Un-programmed or Coded (Factory Default).
Programmed and Coded (DME - EWS Alignment Required).
Programmed, Coded and Aligned to your EWS

 

and Keys. (Shipping Required).
Completely Unlocked (Plug and Play).
All Choices can be made by clicking on the "Add to Cart" button found above.
DME / ECU Support List
7552398 - 7552399 - 7553166 - 7553167
7555361 - 7555362 - 7559178 - 7559179
7561817 - 7561818 - 7561684 - 7561685
7567179 - 7567180 - 7577969 - 7577970
Models Supported
BMW Z4 Series E85 3.0si (Roadster) From 02/2005 to 08/2008 DME MSV70 Siemens
BMW Z4 Series E86 3.0si (Coupe) From 01/2006 to 08/2008 DME MSV70 Siemens
DME & EWS Locations