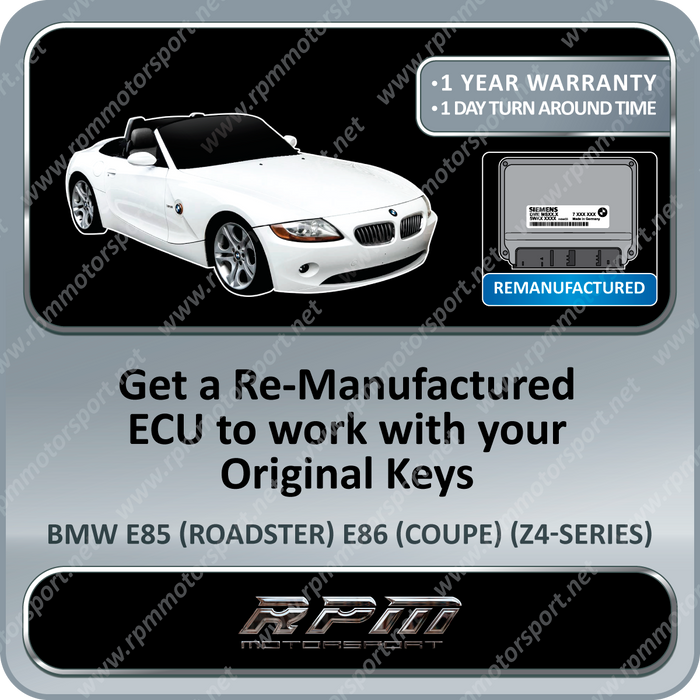 Saved the customer
Was able to help a customer with a cheaper option. Installed it with no issues and the customer is happy.
Hello Nichole,
Thank you for taking the time out to write your feedback!
Saved me a ton
Dealer wanted almost 3k to replace. 15 mins to remove and install the part. Overnight shipping. 4 days later it was fixed for 1/6 the cost. Actually only needed the reprogram so they refunded the difference. Awesome. Also they always answered the phone and wrere helpful. Excellent people!
Hello Randy,
It's a breath of fresh air reading reviews like this one! We appreciate the time you took out to write it. You're awesome! :)
BMW E85 (Z4 Series) MS45.0 Remanufactured ECU 03/2003 To 05/2005
Save

$200.00 CAD
Save

$200.00 CAD
Translation missing: en.product.item.price.original
$999.00 CAD
Hurry! There are only 3 unit[s] left in stock.
Product Information
This is a Re-Manufactured MS45.0 DME (ECU) For a BMW E85 (X4 Series) With a M56 Engine.
We can send this ECU with the following Options:
Un-programmed or Coded. (Factory Default)

Programmed 

and Coded (DME-EWS Alignment Required)
Programmed, Coded and Aligned to your EWS and Keys. (Shipping Required)
Completely Unlocked and Plug and Play.
All Choices can be made by clicking on the "Add to Cart" button found above.
Model Support
BMW Z4 Series E85 2.5L From 03/2003 To 05/2005 DME MS45.0 Siemens
BMW Z4 Series E85 3.0L From 02/2003 To 05/2005 DME MS45.0 Siemens
DME / ECU Support list
7541343, 7513279, 7513280, 7522770
7522771, 7526000, 7526001, 7527000
7527001, 7527072, 7526790, 7527730
7527731, 7530260, 7532902, 7531440
7531441, 7532140, 7532141, 7533651
7533653, 7541335, 7541343, 7543157
7543223, 7548769, 7548771, 7549387
7549390, 7549792, 7549794, 7561380
7549794.
DME & EWS Location