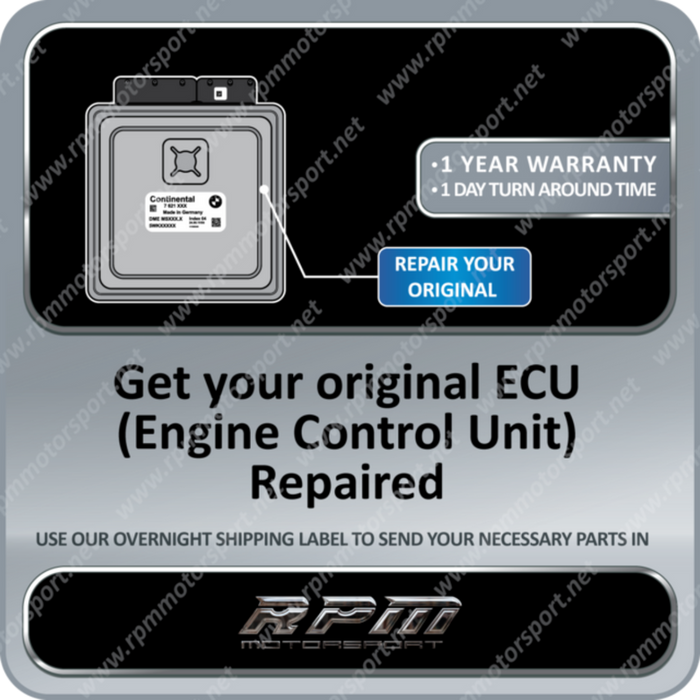 Quick turnaround
They were honest with the diagnosis and return.
Would use them again at a drop of a hat.
Happy to hear that Steve! Looking forward to working with you again soon!
Reprogrammed the CAS and DME for my Z4
I own a 2009 BMW Z4. The battery had gone dead and that caused all sorts of problems. I replaced the battery but then the car would turn over but not start. I took the car to two local repairs shops that work on BMWs and they were not able to get it running. All they were able to determine was my car was in lock out due to the anti-theft being triggered. Their "solution" for the problem was to replace the CAS and probably the DME also. VERY expensive and the parts were back ordered. It would be at least 2 or 3 months before the parts were available, if then. I did some research and found a number of sites that claimed to be able to reprogram the CAS and DME to resolve the problem and RPM Motorsports stood out due to their references. I called them and ended up working with Lee. He was fantastic. I explained the problem and he diagnosed the problems and the fix which involved reprogramming the CAS and DME so they were properly sync'd. Lee explained they would send me an overnight shipping label that I would use to send the CAS, DME, and key fob to them. I received an email with the UPS label attachment and printed it out and took the package to UPS. 3 days later I received the reprogrammed CAS and DME and key fob. Installed them and the car started immediately and there were no other problems. Everything worked as it should. Lee in particular and RPM in general were great to work with and I would highly recommend contacting them if you have problems with your BMW. The service was great and they know what they are doing and the price was extremely reasonable.
Thanks so much for sharing your experience and for the kind words Jim!
BMW DMW repair
Works grate thanks a lot for grate and fast service, its actually nice to talk with real person thanks.
Thanks for the positive review!
2005 BMW325 CI
I couldn't have asked for a better outcome or better customer service !!!
thank you
Thanks so much, worked out very well!
Will definitely use you again and would recommend RPM motorsport to anybody needing these services!
Tory
Hello Tory,
Thanks a lot! We really appreciate that! :)
BMW E90 - E92 - E93 M3 (3 Series) MSS60 2F49 A102 anti tampering protection
Save

$0.00 CAD
Save

$-625.00 CAD
Product Information
This is a BMW Repair Service for any M3 E-Series with S65 Engines equipped with DME  MSS60 and have the following BMW Fault code:
Popular Fault Codes
2F49 -- Anti tampering protection
2F4C -- EWS DME message incorrect
A102 -- Immobilizer anti tampering protection
 The reason this happens is because the CAS Module and DME (Engine control unit) loses its Sync Code between them. Even with an Autologic or ISTA-P you will NOT be able to make a CAS-DME Alignment. The Only way this will work is that you send us your DME, CAS and Key.
Models supported
BMW M3 E90  (Sedan) Years 01/2007 to 07/2008
BMW M3 E92 (Coupe) Years 07/2006 to 02/2010
BMW M3 E93 (Convertible) Years 03/2007 to 02/2010
BMW M3 E90N (Sedan Face lift) Years 04/2008 to 10/2011
BMW M3 E92N (Coupe Face Lift) Years 09/2009 to 06/2013
BMW M3 E93N (Convertible Face Lift) Years 09/2009 to 07/2013  
DME / ECU SUPPORT LIST
7839830 - 7840399 - 7840601 - 7840872 
7840873 - 7840963 - 7840964 - 7841102 
7841103 - 7841364 - 7841365 - 7841981
7841982 - 7842083 - 7842191 - 7842192 
7842403 - 7842404 - 7842420 - 7842421 
7842487 - 7842488 - 7842905 - 7842906 
7843728 - 7843729 - 7843884 - 7843885 
7844101 - 7844102 - 7844913 - 7844914 
7844953 - 7844954 - 7845558 - 7845559 
7846055 - 7846056 - 7846409 - 7846410 
7846903 - 7848125
DME/CAS Removal