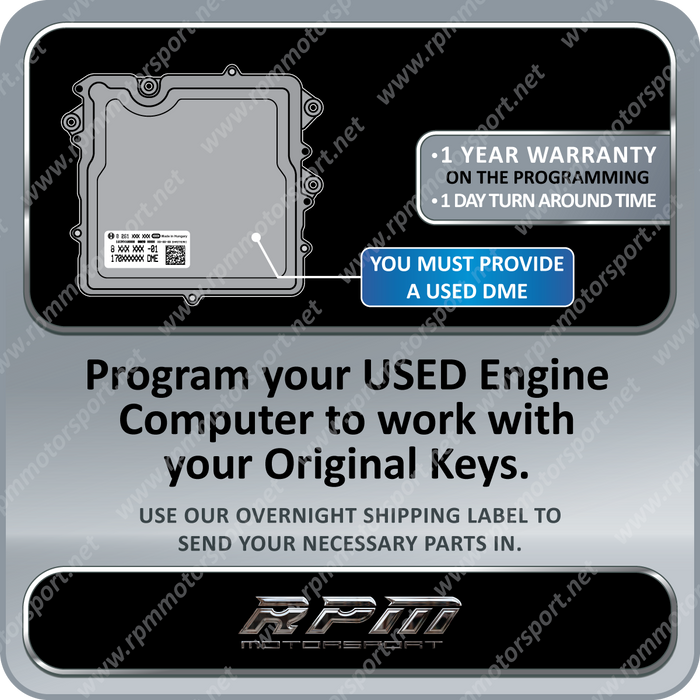 Perfect!
As always a perfect job. The engine control unit was plug and play!
Thanks for the review Chris! Always a pleasure working with you guys.
BMW F-Series N20 N26 N55 S63N S55 Engine Used DME Programming
Life savers
My 4 series BMW spent 2 months at the dealer as they told me I needed the DME replaced but they were unable to obtain one due to supply chain issues. I took the car back and found RPM. Lee was very helpful, a few days turnaround and my used DME was programmed and worked like a charm after a small glitch I caused. I never write reviews but this was truly wonderful and I would highly recommend RPM
Fred
Thanks for the awesome review Fred!
The best service
RPM Motorsport amazed me with the quality of service they provided it's unbelievable to have DME data transfer to a used one overnight???? Next day I got it back installed and started the car workout perfect I didn't have to clear a CEL :) I'll definitely use their services again , highly recommended company to anyone with DME issue
Thanks for the awesome review Steve! Glad we were able to make it happen for you :)
I heard computor installed today and vehicle started after 9 months ans apparently runs good!Pret...
Lee was great and very patient with me.All good so far!
BMW F-Series N20 N26 N55 S63N S55 Engine Used DME Programming
Save

$0.00 CAD
Save

$-399.00 CAD
Product Information
This is a BMW USED DME Programming for All F-Series with a N20 , N26 , N55 and N63N engines equipped with DME MEVD172, MEVD172P, MEVD172G, MEVD172H, MEVD1724, MEVD1728. 

DME / ECU SUPPORT LIST

MEVD172P with N20 or N26 Engines:
8631689 
8639594 
8664660
8631689 
8626171
8624812 
8617375 
8614949 
8610636 
MEVD1724 with N20 Engines:
7626111

7635715

7637482

7631043

7637482

7638888

7643313

7646764

7644748

7649123
MEVD172G with N55 Engines:
7540686

8617384

8621007

8626472

8626762

8624494


8693361

8639582


8663673

8665279


8674949
MEVD172G with S55 Engines:
7555417

8635896

8639582




8645445

8672514

9895530
MEVD172 with N55 Engines:
7601512
7618551
7623593
7620419
7626968 
7629420
7632115
7645465
8618449

7614649
MEVD172S with N55 Engines:
8600449

8610554

8617864

8624495

8631732

8606309

8600449
MEVD1726 with N55 Engines:
8665625
8631748
8641402
8624493
8626659
8617383
8616314
8610278
8606776
7649750
7644134
7638781
7637461
7631093
MEVD1728 / MEVD172H with S63N / N63N Engines:
7540738
7540739
8636967
8656329
8665254
8689181
8617520
7633959
7640373
7646143
7645059
7649828
8604942
8609778
8611709
8614915
8617549
8630492
8637031
Models Supported
BMW F22 (2 Series) Coupe Years 11/2012 To 06/2016 

2' F22, 228i, Coupe, N20 Engine
2' F22, 228iX, Coupe, N20 Engine
2' F22, M235i, Coupe, N55 Engine
2' F23, M235i, Convertible, N55 Engine
2' F23, M235iX, Convertible, N55 Engine
2' F23, M235iX, Convertible, N55 Engine

MS BMW Motorsport, M235i Racing, Coupe, N55 Engine
BMW F87 M2 (2 Series) Coupe Years 01/2016 To 01/2020
2' F87 M2, M2, Coupe, N55 Engine

2' F87 M2 LCI, M2 Competition, Coupe, S55 Engine
BMW F30 (3 Series) Sedan Years 02/2011 to 07/2015
3' F30, 320i, Sedan, N20

 

Engine

3' F30, 320i, Sedan, N20

 

Engine

3' F30, 320iX, Sedan, N20

 

Engine

3' F30, 320iX, Sedan, N20

 

Engine

3' F30, 328i, Sedan, N20

 

Engine

3' F30, 328i, Sedan, N20

 

Engine

3' F30, 328i, Sedan, N26

 

Engine

3' F30, 328i, Sedan, N26

 

Engine

3' F30, 328iX, Sedan, N20 Engine
3' F30, 328iX, Sedan, N20 

Engine

3' F30, 328iX, Sedan, N26

 

Engine

3' F30, 328iX, Sedan, N26

 

Engine

3' F30, 335i, Sedan, N55 Engine

3' F30, 335i, Sedan, N55 Engine

3' F30, 335iX, Sedan, N55 Engine


3' F30, 335iX, Sedan, N55 Engine
BMW F30 LCI (3 Series Facelift) Sedan Years 03/2015 to 08/2018
3' F30 LCI, 320i, Sedan, N20 Engine
3' F30 LCI, 320i, Sedan, N20 Engine
3' F30 LCI, 320iX, Sedan, N20 Engine
3' F30 LCI, 320iX, Sedan, N20 Engine
3' F30 LCI, 328i, Sedan, N20 Engine
3' F30 LCI, 328i, Sedan, N20 Engine
BMW F31 (3 Series) Touring Years 08/2011 to 06/2015
3' F31, 328i, Touring, N20 Engine
3' F31, 328iX, Touring, N20 Engine
3' F31 LCI, 328iX, Touring, N20 Engine
3' F31, 335i, Touring, N55 Engine
3' F31, 335i, Touring, N55 Engine
3' F31, 335iX, Touring, N55 Engine
BMW F34 GT (3 Series) Gran Turismo Years 08/2012 to 06/2015
3' F34 GT, 328i, Gran Turismo, N20 Engine
3' F34 GT, 328i, Gran Turismo, N26 Engine
3' F34 GT, 328iX, Gran Turismo, N20 Engine
3' F34 GT, 328iX, Gran Turismo, N26 Engine

3' F34 GT, 335iX, Gran Turismo, N55 Engine
BMW F80 M3 (3 Series) Sedan Years 04/2012 to 06/2015
3' F80 M3, M3, Sedan, S55 Engine
BMW F80 M3 LCI (3 Series) Sedan Years 01/2015 to 10/2018
3' F80 M3 LCI, M3, Sedan, S55 Engine
BMW F82 M4 (4 Series) Coupe Years 02/2013 to 02/2017
4' F82 M4, M4, Coupe, S55 Engine

4' F82 M4, M4 GTS, Coupe, S55 Engine
BMW F82 M4 LCI (4 Series) Coupe) Years 05/2016 to 02/2019
4' F82 M4 LCI, M4, Coupe, S55 Engine
BMW F83 M4 (4 Series) Convertible Years 06/2013  02/2017)
4' F83 M4, M4, Convertible, S55 Engine
BMW F83 M4 LCI (4 Series) Convertible Years 05/2016 to 02/2019
4' F83 M4 LCI, M4, Convertible, S55 Engine
MS BMW Motorsport 
MS BMW Motorsport, M4 GT4, Coupe, S55 Engine
BMW F32 (4 Series) Coupe Years 11/2012 to 06/2016
4' F32, 428i, Coupe, N20 Engine
4' F32, 428i, Coupe, N26 Engine
4' F32, 428iX, Coupe, N20 Engine
4' F32, 428iX, Coupe, N26 Engine

4' F32, 435i, Coupe, N55 Engine

4' F32, 435iX, Coupe, N55 Engine
BMW F33 (4 Series) Convertible Years 03/2013 to 06/2016
4' F33, 428i, Convertible, N20 Engine
4' F33, 428i, Convertible, N26 Engine
4' F33, 428iX, Convertible, N26 Engine
4' F33, 428iX, Convertible, N20 Engine

4' F33, 435i, Convertible, N55 Engine

4' F33, 435iX, Convertible, N55 Engine 
BMW F36 (4 Series) Gran Coupé Years 07/2013 to 07/2016
4' F36 Gran Coupé, 428i, Gran Coupé, N20 Engine
4' F36 Gran Coupé, 428i, Gran Coupé, N26 Engine
4' F36 Gran Coupé, 428iX, Gran Coupé, N20 Engine
4' F36 Gran Coupé, 428iX, Gran Coupé, N26 Engine

4' F36 Gran Coupé, 435iX, Gran Coupé, N55 Engine

4' F36 Gran Coupé, 435iX, Gran Coupé, N55 Engine
BMW F07 / F10 LCI (5 Series) Sedan Years 06/2010 to 10/2016
5' F07 GT, 535i, 

Gran Turismo

, N55 Engine
5' F07 GT, 535iX,

 

Gran Turismo

, N55 Engine

5' F10 LCI, 528i, Sedan, N20 Engine

5' F10 LCI, 528iX, Sedan, N20 Engine

5' F10 LCI, 535i, Sedan, N55 Engine

5' F10 LCI, 535iX, Sedan, N55 Engine

5' F10 LCI, 550i, Sedan, N63N Engine


5' F10 LCI, 550iX, Sedan, N63N Engine

5' F10, M5, Sedan, S63N Engine
BMW F06 (6 Series) Gran Coupé LCI Years 06/2014 to 07/2018
6' F06 Gran Coupé LCI, 640i, Gran Coupé, N55 Engine

6' F06 Gran Coupé LCI, 640iX, Gran Coupé, N55 Engine

6' F06 Gran Coupé, M6, Gran Coupé, S63N Engine
BMW F12 F13 (6 Series) Coupe / Convertible Years 10/2009 to 02/2015
6' F12, 640i, Convertible, N55 Engine

6' F12 LCI, 640i, Convertible, N55 Engine

6' F12 LCI, 640iX, Convertible, N55 Engine

6' F13, 640i, Coupe, N55 Engine

6' F13 LCI, 640i, Coupe, N55 Engine

6' F12, M6, Convertible, S63N Engine

6' F13, M6, Coupe, S63N Engine
BMW F01 LCI (7 Series) Sedan Years 05/2011 to 05/2015

7' F01 LCI, 740i, Sedan, N55 Engine
BMW F02 LCI (7 Series) Sedan Years 05/2011 to 05/2015

7' F02 LCI, 740Li, Sedan, N55 Engine

7' F02 LCI, 740LiX, Sedan, N55 Engine
BMW F25 (X3 Series) SUV Years 03/2012 to 08/2017
X3 F25, X3 28i, SUV, N20 Engine
X3 F25, X3 28iX, SUV, N20 Engine
BMW F26 (X4 Series) SUV Years 07/2013 to 03/2018
X4 F26, X4 28iX, SAC, N20 Engine

X4 F26, X4 M40iX, SAC, N55 Engine

BMW F15 (X5 Series) SUV Years 08/2012 to 06/2018
X5 F15, X5 35i, SUV, N55 Engine

X5 F15, X5 35iX, SUV, N55 Engine

X5 F15 X5 50i SUV, N63N Engine

X5 F15 X5 50iX SUV, N63N Engine
BMW F16 (X6 Series) SUV Years 09/2013 to 08/2018
X6 F16, X6 35i, SAC, N55 Engine

X6 F16, X6 35iX, SAC, N55 Engine
DME & CAS REMOVAL