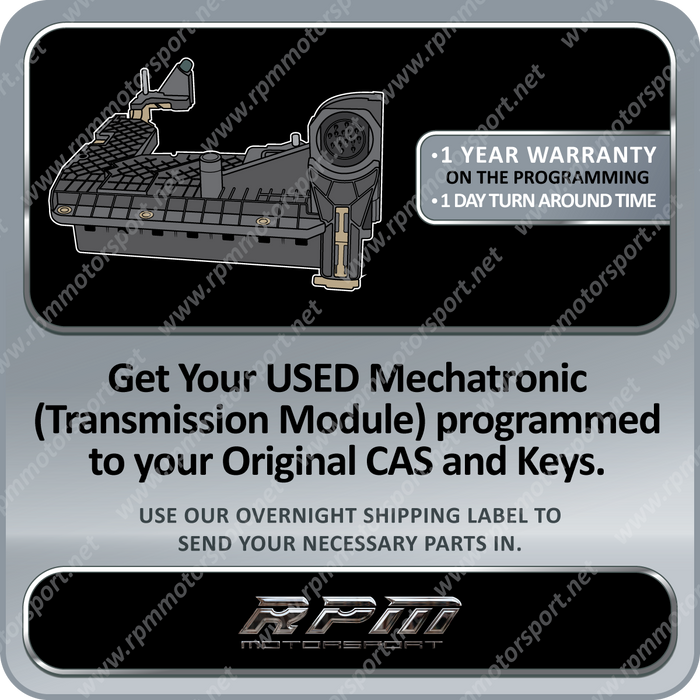 Awesome work
How much easier can it get for us. These guys are excellent at what they do from the time you ship them the part and the turn around time getting it back. With out a question they get an "A+" from us every time we use them. As always thanks to everyone at RPM.
It's always a pleasure serving you Kenny! Thanks for your awesome words! :)
BMW MECHATRONICS
THEY PROGRAMMED THE USED MECHATRONICS UNIT THAT BMW SHOULD HAVE BEEN ABLE TO DO. WE SENT IT RECEIVED IT BACK AND HAVE A HAPPY CUSTOMER...SHIPPING WAS A BIT LONG TO GET THERE BUT EVERYTHING WORKED OUT.
Hello Sherry,
Thank you for taking the time out to write this! Stay safe! :)
Saved our posteriors again
We have used RPM several times now and they have always solved our problem. Fast, professional, and reasonably priced. Does what BMW can't (or won't) do. Thanks again.
BMW E-Series GA6HP19Z / GA6HP26Z Mechatronics Gearbox USED EGS TCU programming service 6HP
Save

$0.00 CAD
Save

$-499.00 CAD
Product Information
This is a BMW USED EGS TCU Programming service for All E-Series with a GA6HP19Z or GA6HP26Z Mechatronic TCU / EGS.
GA6HP19Z support list
GA6HP19Z Mechatronics
7571221
7571224
7571236
7571245
7571246
7571153
7552312
7647853
7647856
7647857
7647858
8671617
8671618
8671627
GA6HP26Z support list
GA6HP26Z Mechatronics
24347571228

24348671614

24347534269

24347532291

24340418477

24347607877

24347631076

24347605217

24347599809

24347607878

24347631077


24347601937

24347588754


24348671622
Models supported
BMW 1' E88 Years (11/2006 — 10/2013)

1' E88, 128i, Convertible, N52N, USA, (UL73) : GA6HP19Z Mechatronics
1' E88, 135i, Convertible, N54, USA, (UN93) : GA6HP19Z Mechatronics
BMW 1' E82 Years (11/2006 — 10/2013)
1' E82, 128i, Coupe, N52N, USA, (UP73) : GA6HP19Z Mechatronics
1' E82, 135i, Coupe, N54, USA, (UC73) : GA6HP19Z Mechatronics
BMW 3' E90 E91 E92 Years (02/2004 — 09/2007)
3' E90, 323i, Sedan, N52, USA, (VB53) : GA6HP19Z Mechatronics
3' E90, 325i, Sedan, N52, USA, (VB13) : GA6HP19Z Mechatronics
3' E90, 325i, Sedan, N52, USA, (VB17) : GA6HP19Z Mechatronics
3' E90, 325xi, Sedan, N52, USA, (VD13) : GA6HP19Z Mechatronics
3' E90, 330i, Sedan, N52, USA, (VB33) : GA6HP19Z Mechatronics
3' E90, 330xi, Sedan, N52, USA, (VD33) : GA6HP19Z Mechatronics
3' E91, 325xi, Touring, N52, USA, (VT13) : GA6HP19Z Mechatronics
3' E92, 335i, Coupe, N54, USA, (WB73) : GA6HP19Z Mechatronics
3' E92, 335xi, Coupe, N54, USA, (WC73) : GA6HP19Z Mechatronics
BMW 3' E90 E91 E92 LCI Years (07/2007 — 08/2012)
3' E90 LCI, 323i, Sedan, N52N, USA, (PG77) : GA6HP19Z Mechatronics
3' E90 LCI, 328i, Sedan, N52N, USA, (PH73) : GA6HP19Z Mechatronics
3' E90 LCI, 328i, Sedan, N52N, USA, (PH77) : GA6HP19Z Mechatronics
3' E90 LCI, 328xi, Sedan, N52N, USA, (PK73) : GA6HP19Z Mechatronics
3' E90 LCI, 328xi, Sedan, N52N, USA, (PK77) : GA6HP19Z Mechatronics
3' E90 LCI, 335i, Sedan, N55, USA, (PM53) : GA6HP19Z Mechatronics
3' E90 LCI, 335i, Sedan, N55, USA, (PM57) : GA6HP19Z Mechatronics
3' E90 LCI, 335i, Sedan, N54, USA, (PM73) : GA6HP19Z Mechatronics
3' E90 LCI, 335i, Sedan, N54, USA, (PM77) : GA6HP19Z Mechatronics
3' E90 LCI, 335xi, Sedan, N54, USA, (PL33) : GA6HP19Z Mechatronics
3' E90 LCI, 335xi, Sedan, N55, USA, (PL53) : GA6HP19Z Mechatronics
3' E90 LCI, 335xi, Sedan, N55, USA, (PL57) : GA6HP19Z Mechatronics
3' E91 LCI, 328i, Touring, N52N, USA, (UT93) : GA6HP19Z Mechatronics
3' E91 LCI, 328xi, Touring, N52N, USA, (UU33) : GA6HP19Z Mechatronics
3' E92 LCI, 328i, Coupe, N52N, USA, (KE33) : GA6HP19Z Mechatronics
3' E92 LCI, 328xi, Coupe, N52N, USA, (KF33) : GA6HP19Z Mechatronics
3' E92 LCI, 335i, Coupe, N55, USA, (KG73) : GA6HP19Z Mechatronics
3' E92 LCI, 335xi, Coupe, N55, USA, (KF93) : GA6HP19Z Mechatronics
BMW 5' E60 E61 Years (01/2003 — 06/2007)
5' E60, 525i, Sedan, N52, USA, (NE53) : GA6HP19Z Mechatronics
5' E60, 525xi, Sedan, N52, USA, (NF33) : GA6HP19Z Mechatronics
5' E60, 530i, Sedan, N52, USA, (NE73) : GA6HP19Z Mechatronics
5' E60, 530xi, Sedan, N52, USA, (NF73) : GA6HP19Z Mechatronics
5' E61 LCI, 535xi, Touring, N54, USA, (PT73) : GA6HP19Z Mechatronics
BMW Z4 E85 E86 Years (10/2004 — 08/2008)
Z4 E85, Z4 3.0i, Roadster, N52, USA, (BU33) : GA6HP19Z Mechatronics
Z4 E85, Z4 3.0si, Roadster, N52, USA, (BU53) : GA6HP19Z Mechatronics
Z4 E86, Z4 3.0si, Coupe, N52, USA, (DU53) : GA6HP19Z Mechatronicsbm
BMW Z4 E89 Years (01/2008 — 08/2011)
Z4 E89, Z4 30i, Roadster, N52N, USA, (LM53) : GA6HP19Z Mechatronics
BMW X1 E84 Years (09/2008 — 06/2015)
X1 E84, X1 35iX, SUV, N55, USA, (VM53) : GA6HP19Z Mechatronics
BMW X5 E70 3.0si MSV80 DME Years (02/2006 — 03/2010)
X5 E70, X5 3.0si, SUV, N52N, AUTO, USA, (FE43) : GA6HP19Z Mechatronics
BMW X5 E70 LCI 35dX Years (08/2009 — 06/2013)
X5 E70 LCI, X5 35dX, SUV, M57N2, AUTO, USA, (ZW03) : GA6HP26Z Mechatronics
BMW X5M E70 Years (07/2008 — 06/2013)
X5 E70, X5 M, SUV, S63, AUTO, USA, (GY03) : GA6HP26Z Mechatronics
X5 E70, X5 M, SUV, S63, AUTO, USA, (GY03) : GA6HP26Z Mechatronics
BMW X6 E71 Years (01/2007 — 03/2010)
X6 E71, X6 35iX, SAC, N54, AUTO, USA, (FG43) : GA6HP19Z Mechatronics
BMW X6M E71 Years (07/2008 — 06/2014)
X6 E71, X6 M, SAC, S63, AUTO, USA, (GZ03) : GA6HP26Z Mechatronics
X6 E71, X6 M, SAC, S63, AUTO, USA, (GZ03) : GA6HP26Z Mechatronics

BMW 7 Series E65 Years (01/2001 — 07/2008)
7' E65, 745i, Sedan, N62, AUTO, USA, (GL63) : GA6HP26Z Mechatronics
7' E65, 750i, Sedan, N62N, AUTO, USA, (HL83) : GA6HP26Z Mechatronics

7' E65, 760i, Sedan, N73, AUTO, USA, (GL83) : GA6HP26Z Mechatronics

7' E65, 760i, Sedan, N73, AUTO, USA, (HL03) : GA6HP26Z Mechatronics

BMW 7 Series E66 Years (01/2001 — 07/2008)
7' E66, 745Li, Sedan, N62, AUTO, USA, (GN63) : GA6HP26Z Mechatronics
7' E66, 750Li, Sedan, N62N, AUTO, USA, (HN83) : GA6HP26Z Mechatronics
7' E66, 760Li, Sedan, N73, AUTO, USA, (GN83) : GA6HP26Z Mechatronics