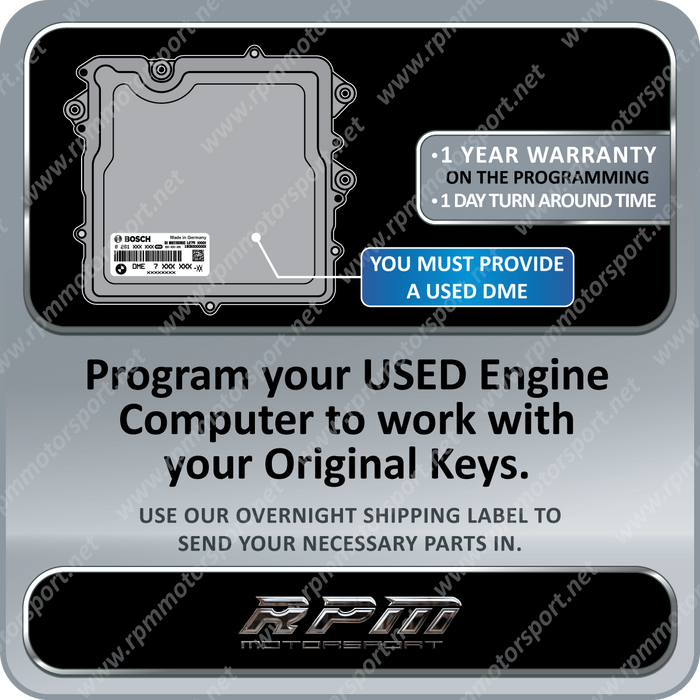 BMW N55 DME clone
Wow!! RPM is absolutely awesome! Don't go anywhere else. I did the research. Seamless and flawlessly transaction. These guys know their stuff. You speak to real technicians that walk you through what you need and confirm all is correct. Turn around is incredibly fast. I had to replace both Valvetronic actuator and DME. RPM cloned the replacement DME. I installed it and my 335Xi works perfect!!
We appreciate the kind words! Thanks for taking the time to share your experience!
Awesome Service
Guys did a great job, computer worked as good as a new OEM one, no codes or faults, made our customer happy being able to avoid a new OEM computer.
Thanks for the review Dave!
Awesome.
Awesome job as usual and quick turnaround.
Thanks James! Glad we could help you out with this one :)
bmw dme
As always very quick turn around Thank you very much!!! Mike
Thanks for the review Mike! Looking forward to working with you again soon!
Great job .
Thank you guys helps.
My case is very complicated damaged DME I try to repair do my self open rear case during open damaged MOS FET 2 of them .
I try to fix but get worse ….
Looks like impossible to restore . But I just reinstall and start successfully but
#3,#4 miss firing . Injector control FET are damaged out of control .
So far works fine DME still live ….
I decided send to guy available to transfer program . Finally RPM MOTORSPORT sent them and I wait no complain little late I don't want you guys contact … finally they sent me successfully complied Restore used DME .
After installed couple of adjust and set working perfect .
Thank you guys agin .
BMW E-Series N55 N20 Engine USED DME Programming
Save

$0.00 CAD
Save

$-399.00 CAD
Product Information
This is a BMW USED DME Programming for All E-Series with a N20 and N55 engines equipped with DME MEVD172, MEVD1724, MEVD1726 and MEVD1729.
USED DME's / ECU's cannot be programmed by your local dealer, Rpm Motorsport however solves this problem for you.
Models Supported
 BMW 3 Series E90 (Sedan) LCI (Facelift) 335i or 335is Years 02/2010 To 10/2011 

 BMW 3 Series E92 (Coupe) LCI (Facelift) 335i or 335is Years 07/2009 To 06/2013 
 BMW 3 Series E93 (Convertible) LCI (Facelift) 335i or 335is Years 02/2010 To 10/2013 
 BMW X1 Series E84 35iX Years 04/2009 to 04/2015
 BMW X1 E84, X1 28i, SUV, N20 Engine Years (11/2009 — 06/2015)
 BMW X1 E84, X1 28iX, SUV, N20 Engine Years (11/2009 — 06/2015)
 BMW X5 Series E70 Years 02/2010 To 10/2013 
 BMW (X6 Series) E71 Years 07/2009 to 06/2014

 BMW Z4 E89, Z4 28i, Roadster, N20 Engine Years (01/2011 — 08/2016)
DME / ECU Supported 
MEVD172 / MEVD1726 / MEVD1729   DME'S (ECU)
with N55 / N20 / N26 Engines. 
DME Supported Part Number (Bosch MEVD172) 
 7610272

 7626776

 7629609

 7629130

 7645283

 8618483

 7612745

 

7614754
DME Supported Part Number (Bosch MEVD1726)
 7639422

 7645694

 8606310

 8610679

 8615879

 8617572
DME Supported Part Number (Bosch MEVD1724)
 7629048
 7629005
 7639374
 7610357
 7645764
DME Supported Part Number (Bosch MEVD1729)
 8617570
 8614957
 8626899
 8631728
 8661467
 8610677
 8603575
 8601367
 7645795
DME & CAS Removal