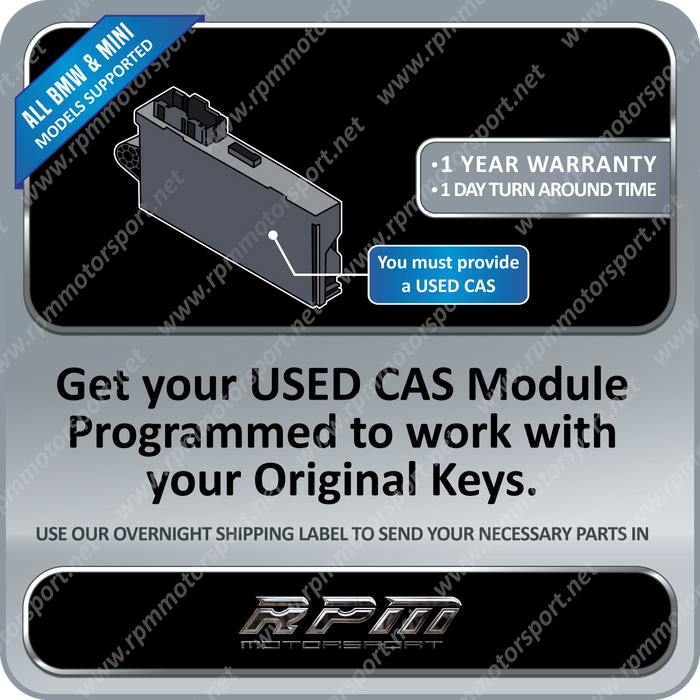 Had a great experience dealing with zack and jeff. They both did an awesome job to accommodate me in my weird situation with my cas module issue for a customers car. I will definitely give rpm more business in the future. Car is running perfectly now and the customer is very satisfied.
Great company
5 Star company, Fast turnaround great, great customer support.
Thank you Jimmy! We're looking forward to hearing from you again soon! :)
BMW / MINI CAS3 Module Used Programming Service (All Models Supported)
Save

$0.00 CAD
Save

$-625.00 CAD
Product Information
This is a USED CAS Programming Service for All BMW / MINI Models equipped with CAS3 Modules (Car Access System).
This is useful when your CAS Module fails because of the following reasons:
Unit not communicating. (Bricked)
Water corrosion inside the motherboard.
Not engaging the engine starter (Especially Mini Coopers)
Keys Not being recognized.
CAS Module bricked due to ISTA-P or any BMW diagnostic programming. (Bricked)
Popular Fault Codes

A0C1 Terminal 50 Output. (Engine turns for only 1 second and shuts down)
A0AA CAS system malfunction. (ELV Malfunction)
A0AC CAS fault

A115 ELV steering

A116 CAS critical status ELV steering lock
Once sent back ALL KEYS will work and there will be no extra coding or programming necessary. (Plug & Play)
Models supported
BMW 1' E88   (11/2006 — 10/2013)
BMW 1' E82   (11/2006 — 10/2013)
BMW 3' E90   (02/2004 — 08/2008)
BMW 3' E90 LCI   (07/2007 — 12/2011)
BMW 3' E91   (02/2004 — 08/2008)
BMW 3' E91 LCI   (07/2007 — 05/2012)
BMW 3' E92   (05/2005 — 02/2010)
BMW 3' E92 LCI   (11/2008 — 06/2013)
BMW 3' E93   (09/2005 — 02/2010)
BMW 3' E93 LCI   (11/2008 — 10/2013)
BMW 5' E60   (05/2003 — 12/2009)
BMW 5' E60 LCI   (10/2005 — 09/2010)
BMW 5' E61 LCI   (11/2005 — 05/2010)
BMW 6' E63   (05/2002 — 07/2010)
BMW 6' E63 LCI   (04/2006 — 07/2010)
BMW 6' E64   (09/2002 — 07/2010)
BMW 6' E64 LCI   (04/2006 — 07/2010)
BMW X1 E84   (04/2009 — 12/2015)
BMW Z4 E89   (01/2008 — 08/2016)
MINI R56   (11/2005 — 07/2010)
MINI R56 LCI   (04/2009 — 11/2013)
MINI Clubman R55   (10/2006 — 07/2010)
MINI Clubman R55 LCI   (03/2009 — 06/2014)
MINI Cabrio R57   (11/2007 — 07/2010)
MINI Cabrio R57 LCI   (04/2009 — 06/2015)
MINI Coupé R58   (01/2011 — 05/2015)
MINI Roadster R59   (01/2011 — 04/2015)
MINI Countryman R60   (01/2010 — 10/2016)
MINI Paceman R61   (03/2012 — 09/2016)
CAS 3 SUPPORT LIST
61359395656 - 61359217854 - 61359147222
61359147192 - 61359147185 - 61356943835
61356943831 - 61356943815 - 61359147170
61359147171 - 61359147173 - 61359147174
61359147175 - 61359147176 - 61359147177
61359147178 - 61359147179 - 61359147180
61359147181 - 61359147184 - 61359147185
61359147186 - 61359147187 - 61359147188
61359147189 - 61359147190 - 61359147191
61359147192 - 61359147193 - 61359147194
61359147195 - 61359147196 - 61359147197
61359147198 - 61359147199 - 61359147200
61359147201 - 61359147202 - 61359147203
61359147204 - 61359147205 - 61359147206
61359147207 - 61359147208 - 61359147209
61359147210 - 61359147211 - 61359147212
61359147216 - 61359147217 - 61359147218
61359147219 - 61359147220 - 61359147221
61359147222 - 61359147225 - 61359147226
61359147227 - 61359147228 - 61359147229
61359217853 - 61359217854 - 61359221719
61359221720 - 61359226238 - 61359226239
61359227053 - 61359227106 - 61359230590
61359230591 - 61359237046 - 61359237047
61359253119 - 61359253120 - 61359257219
61359257220 - 61359262360 - 61359262361
61359267608 - 61359267609 - 61359273192
61359273193 - 61359278745 - 61359278746
61359283153 - 61359283154 - 61359287534
61359287535 - 61359314256 - 61359321069
CAS Removal