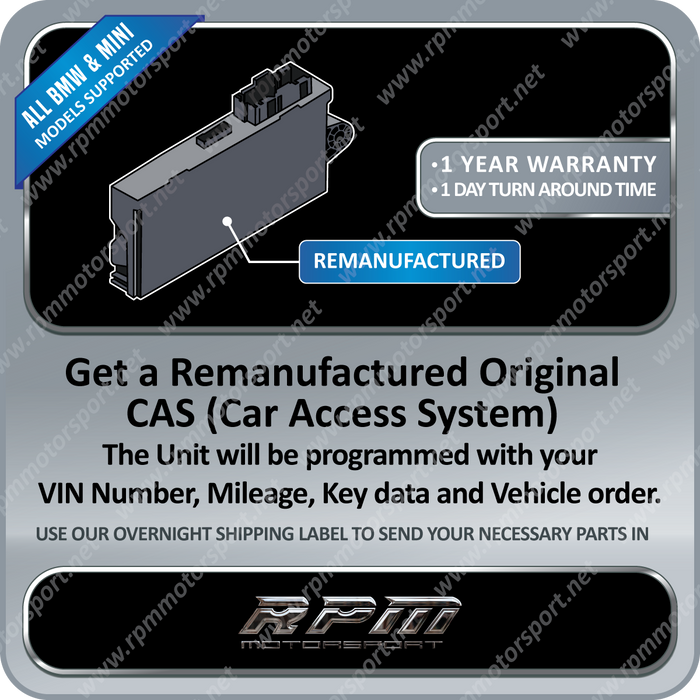 Amazing service!
Had problems with my 2007 mini cooper s r56 didn't want to start and rpm motosport was amazing service and lots of help!!! Was the cas and they send it back fast!! And called me after to make sure it work!! Definitely recommending them. I will come back when there mote problems with my mini
Thanks for the review Luis! Happy we could help!
Car owner Ralph Wendel
It works so far. Thanks for your help.
Saved a customer
On the older cars a lot of manufacture's that produce products have gone out of business. As a result a lot of older vehicle are being deemed unrepairable in a conventional sense. Now those cars are in being totaled. RPM is helping people staying in a budget and retaining their personal freedoms and transportation.
Lee does a great job!
Thanks for sharing your experience Howard! We have heard about a lot of situations where the dealership has these modules on back order with no estimated delivery time or not even offering them at all so we definitely take a lot of pride in being able to provide a solution for customer's like yourself!
Lee
Amazing service
Great people to work with did everything over and above in my opinion. After diagnoseg my cas4 module they contacted me and we change our original plan tow a cheaper service and refunded me the difference. And had it back to me by the end of the next Day. I would recommend them to anyone! Thanks RPM Dave
Hello David,
Thank you for taking the time out to write this review. We appreciate your kind words! Looking forward to hearing from you again soon :)
CAS3+ 09 mini
Installed the part and it started right away. Cannot thank you enough.
You're more than welcome Rob! We're glad everything went smooth! :)
BMW / MINI Cooper Remanufactured CAS3+ (Car Access System) 2007 to 2013
Save

$0.00 CAD
Save

$-1,100.00 CAD
Product Information
This is a Re-manufactured CAS Module for All BMW & MINI Cooper Models with CAS3+
This is useful when your CAS Module fails because of the following reasons:
Unit not communicating.
water corrosion inside the motherboard.
Not engaging the engine starter (Especially Mini Coopers)
Key Not being recognized.
Unit bricked due to ISTA-P or any BMW diagnostic programming.
Parts to be Shipped

Models supported
BMW 1' E88   (11/2006 — 10/2013)
BMW 1' E82   (11/2006 — 10/2013)
BMW 3' E90   (02/2004 — 08/2008)
BMW 3' E90 LCI   (07/2007 — 12/2011)
BMW 3' E91   (02/2004 — 08/2008)
BMW 3' E91 LCI   (07/2007 — 05/2012)
BMW 3' E92   (05/2005 — 02/2010)
BMW 3' E92 LCI   (11/2008 — 06/2013)
BMW 3' E93   (09/2005 — 02/2010)
BMW 3' E93 LCI   (11/2008 — 10/2013)
BMW 5' E60   (05/2003 — 12/2009)
BMW 5' E60 LCI   (10/2005 — 09/2010)
BMW 5' E61 LCI   (11/2005 — 05/2010)
BMW 6' E63   (05/2002 — 07/2010)
BMW 6' E63 LCI   (04/2006 — 07/2010)
BMW 6' E64   (09/2002 — 07/2010)
BMW 6' E64 LCI   (04/2006 — 07/2010)
BMW X1 E84   (04/2009 — 12/2015)
BMW X5 E70 (02/2006

 

—

 

10/2010)
BMW Z4 E89   (01/2008 — 08/2016)

MINI R56   (11/2005 — 07/2010)
MINI R56 LCI   (04/2009 — 11/2013)
MINI Clubman R55   (10/2006 — 07/2010)
MINI Clubman R55 LCI   (03/2009 — 06/2014)
MINI Cabrio R57   (11/2007 — 07/2010)
MINI Cabrio R57 LCI   (04/2009 — 06/2015)
MINI Coupé R58   (01/2011 — 05/2015)
MINI Roadster R59   (01/2011 — 04/2015)
MINI Countryman R60   (01/2010 — 10/2016)
MINI Paceman R61   (03/2012 — 09/2016)
CAS 3 SUPPORT LIST
61359395656 - 61359217854 - 61359147222
61359147192 - 61359147185 - 61356943835
61356943831 - 61356943815 - 61359147170
61359147171 - 61359147173 - 61359147174
61359147175 - 61359147176 - 61359147177
61359147178 - 61359147179 - 61359147180
61359147181 - 61359147184 - 61359147185
61359147186 - 61359147187 - 61359147188
61359147189 - 61359147190 - 61359147191
61359147192 - 61359147193 - 61359147194
61359147195 - 61359147196 - 61359147197
61359147198 - 61359147199 - 61359147200
61359147201 - 61359147202 - 61359147203
61359147204 - 61359147205 - 61359147206
61359147207 - 61359147208 - 61359147209
61359147210 - 61359147211 - 61359147212
61359147216 - 61359147217 - 61359147218
61359147219 - 61359147220 - 61359147221
61359147222 - 61359147225 - 61359147226
61359147227 - 61359147228 - 61359147229
61359217853 - 61359217854 - 61359221719
61359221720 - 61359226238 - 61359226239
61359227053 - 61359227106 - 61359230590
61359230591 - 61359237046 - 61359237047
61359253119 - 61359253120 - 61359257219
61359257220 - 61359262360 - 61359262361
61359267608 - 61359267609 - 61359273192
61359273193 - 61359278745 - 61359278746
61359283153 - 61359283154 - 61359287534
61359287535 - 61359314256 - 61359321069
CAS Removal