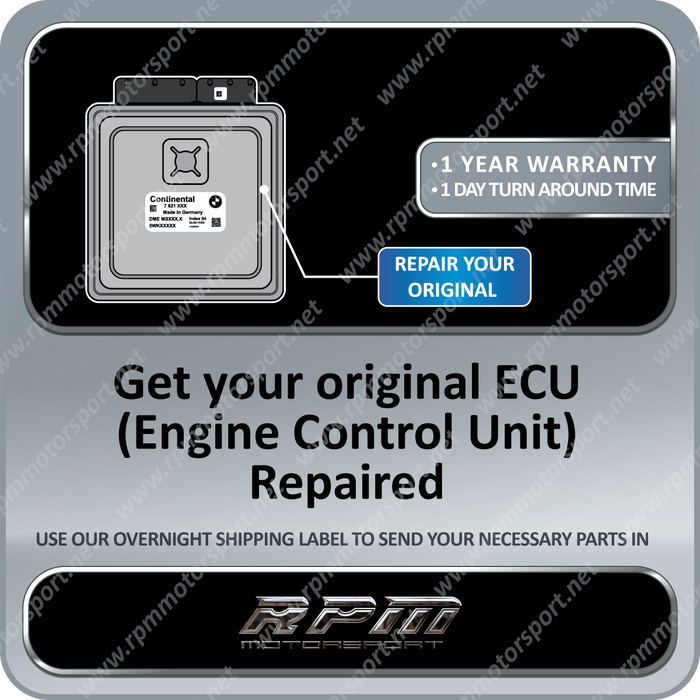 Brought my Car back from the Dead!
I had been dealing with a 2FA4 code for months after a failed tuning from another company, and was about to give up on the car. I found RPM motorsports, and they managed to completely fix my 2FA4 error. Turn around was fast, and I recommend them to anyone with ECU issues!
Haha! We're glad that we were able to resurrect your baby just in time! We're looking to hearing from you again Eric!
BMW MSV80 MSV80.0 MSV80.1 - 2FA4 Incorrect Data Record Repair
Save

$0.00 CAD
Save

$-1,100.00 CAD
Product Information
This is a BMW Repair Service for any E-Series with N51 and N52N engines equipped with DME  MSV80, MSV80.0 and MSV80.1 and have the following BMW Fault code:


Popular Fault Codes
2FA4 -- Incorrect Data Record Repair

The reason this happens is because customers go to inexperienced companies to get their USED DME programmed or they acquired a new DME and they ended up with this fault code. USED DME Programming by RPM Motorsport will never show this fault code.

The symptoms includes the engine not passing over 1500 RPM and will enter ENGINE FAIL SAFE MODE.
 Models Supported 
BMW 1 Series E82 128i From 12/2006 To 10/2013 DME MSV80 Siemens
BMW 3 Series E90 323i From 01/2007 To 12/2011 DME MSV80 / MSV80.1 Siemens
BMW 3 Series E90 - E92 328i From 01/2007 to 06/2013 Dme MSV80 / MSV80.1 Siemens
BMW 3 Series E90 - E92 328xi From 01/2007 To 06/2013 DME MSV80 / MSV80.1 Siemens
BMW 5 Series E60 LCI 528i Years 05/2006 To 12/2009 

N52N Engine.

BMW 5 Series E60 LCI 528xi Years 05/2006 To 12/2009

 N52N Engine.

BMW X5 Series E70 3.0si / 3.0L From 08/2006 To 03/2010 DME MSV80.0 Siemens
BMW Z4 Series E89 23i / 28i / 30i From 07/2008 To 08/2011 DME MSV80 Siemens
DME / ECU SUPPORT LIST
MSV80 / MSV80.0 /  MSV80.1 DME'S (ECU) AKA N51 and N52N
DME Supported Part Number (Siemens MSV80)
7546143  -  7557135  -  7565861  -  7565862
7567227  -  7567230  -  7567362  -  7567367
7569988  -  7570376  -  7570398  -  7573322
7573323  -  7574540  -  7574541  -  7574544
7574545  -  7575057  -  7575058  -  7575498
7575499  -  7576297  -  7576300  -  7577068
7577069  -  7577996  -  7577997  -  7581123
7581124  -  7583468  -  7583470  -  7587164
7587165  -  7591709  -  7591710  -  7594483
7594484  -  7594941  -  7594942  -  7597091 
7597093
DME Supported Part Number (Siemens MSV80.0)
7602220  -  7602221  -  7605429  -  7605430
7609656  -  7609657  -  7611280  -  7611281
7614359  -  7614361  -  7624048  -  7624049
DME Supported Part Number (Siemens MSV80.1)
7567609  -  7567610  -  7569989  -  7573332
7574542  -  7574543  -  7574546  -  7574547
7575500  -  7575501  -  7576670  -  7576671
7581126  -  7581127  -  7581547  -  7581548
7583526  -  7583527  -  7584309  -  7584310
7587166  -  7587167  -  7591843  -  7591844
7594485  -  7594486  -  7597425  -  7597426
7602216  -  7602217  -  7605423  -  7605424
7609658  -  7609659  -  7611282  -  7611283
7614362  -  7614363  -  7624052  -  7624053
7629046  -  7639647  -  8613002
DME & CAS Removal