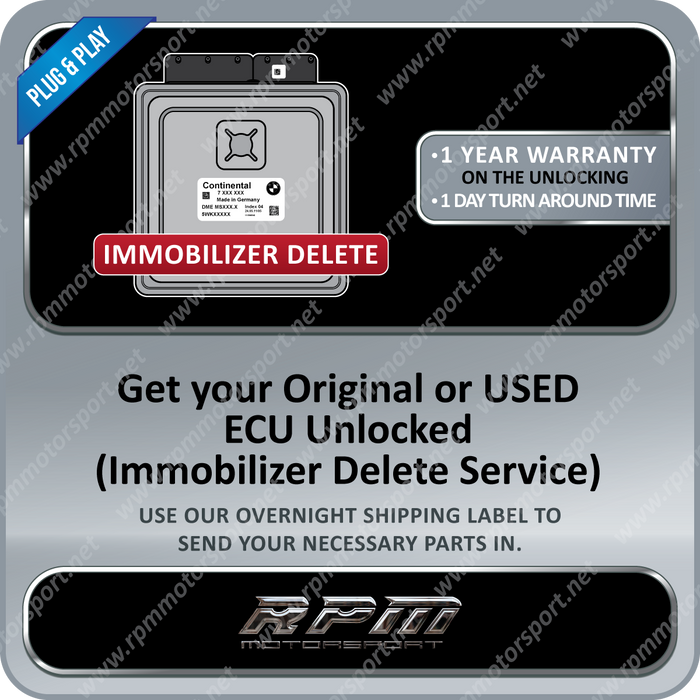 Worked amazing I love it definitely worth this buck and wicked fast shipping and good customer service
Glad we could help get your car back on the road Cody :)
Fast Delivery
Excellent service and quick delivery
Very fast and professional help
Thanks for the review Matthew!
nice
vers good product and service
Unlocked DME
Great service/product, fast response, awesome to talk with, and fast service!
Thanks for the positive review Brian!
BMW MSS60 / MSS65 / MSV70 / MSS70 EWS / Immobilizer Delete Service - Rpm Motorsport
Save

$0.00 CAD
Save

$-499.00 CAD
Product Information
This is a DME Unlocking Service (Immobilizer / EWS / CAS Delete) for All BMW models equipped with a N51, N52N, N54, N54T, S65, or S85 engine with DME MSS60 / MSS65 / MSV70 / MSS70. 
This service effectively bypasses the immobilizer, allowing the DME to start any vehicle (that the DME is compatible with) without the VIN number matching. 
This service is useful for the following:
For service centers that need a DME that can work in other vehicles for testing purposes
For tuned cars that want to try their DMEs on other vehicles. 
Models supported 
BMW 3 Series E90 325i 01/2005 To 08/2006 DME MSV70 Siemens
BMW 3 Series E90 325xi 01/2005 To 08/2006 DME MSV70 Siemens
BMW 3 Series E90 330i 02/2004 To 08/2006 DME MSV70 Siemens
BMW 3 Series E90 330xi 03/2005 To 08/2006 DME MSV70 Siemens
BMW 5 Series E60 525i 07/2004 To 02/2007 DME MSV70 Siemens
BMW Z4 Series E85 2.5si 10/2004 To 08/2008 DME MSV70 Siemens
BMW Z4 Series E85 3.0si 10/2004 To 08/2008 DME MSV70 Siemens
BMW Z4 E85, Z4 M3.2 Roadster S54 11/2004 To 08/2008 DME MSS70 Siemens
BMW Z4 E86, Z4 M3.2

 

Coupe 

S54 10/2005 To 08/2008 DME MSS70 Siemens
BMW M3 E90 (Sedan) Years 01/2007 To 07/2008 DME MSS60
BMW M3 E92 (Coupe) Years 07/2006 To 02/2010 

DME MSS60

BMW M3 E93 (Convertible) Years 03/2007 To 02/2010 

DME MSS60

BMW M3 E90N (Sedan Facelift) Years 04/2008 To 10/2011 

DME MSS60

BMW M3 E92N (Coupe Face Lift) Years 09/2009 To 06/2013 

DME MSS60

BMW M3 E93N (Convertible Face Lift) Years 09/2009 To 07/2013 

DME MSS60

BMW M5 E60 (Sedan) Years 05/2003 To 12/2009 DME MSS65
BMW M6 E63 (Coupe) Years 03/2004 To 07/2010 

DME MSS65

BMW M6 E64 (Convertible) Years 07/2005 To 07/2010 

DME MSS65
DME / ECU SUPPORT LIST
BMW Supported ECU's : MSS60 / MSS65 / MSV70 / MSS70
MSS60:
7839830 - 7840399 - 7840601 - 7840872
7840873 - 7840963 - 7840964 - 7841102
7841103 - 7841364 - 7841365 - 7841981
7841982 - 7842083 - 7842191 - 7842192
7842403 - 7842404 - 7842420 - 7842421
7842487 - 7842488 - 7842905 - 7842906
7843728 - 7843729 - 7843884 - 7843885
7844101 - 7844102 - 7844913 - 7844914
7844953 - 7844954 - 7845558 - 7845559
7846055 - 7846056 - 7846409 - 7846410
MSS65:
7834289 - 7835672 - 7835672 - 7835797
7836228 - 7836398 - 7836496 - 7836398
7836779 - 7836496 - 7837231 - 7836779
7837708 - 7837709 - 7837831 - 7837832
7838113 - 7838114 - 7838302 - 7838362
7838363 - 7838711 - 7838725 - 7839006
7839007 - 7839211 - 7839212 - 7839327
7839328 - 7840444 - 7840445 - 7840656
7840657 - 7841201 - 7841202 - 7841389
7841682 - 7841683 - 7841684 - 7841687
7842121 - 7842122 - 7842123 - 7842124
Siemens MSV70:
7552398 - 7552399 - 7553166 - 7553167

7555361 - 7555362 - 7559178 - 7559179

7561817 - 7561818 - 7561684 - 7561685

7567179 - 7567180 - 7577969 - 7577970
Siemens MSS70:
7838000 - 7838186 - 7838378 - 7838663 
7838679 - 7838895 - 7838896 - 7839868
7840473 
DME Removal