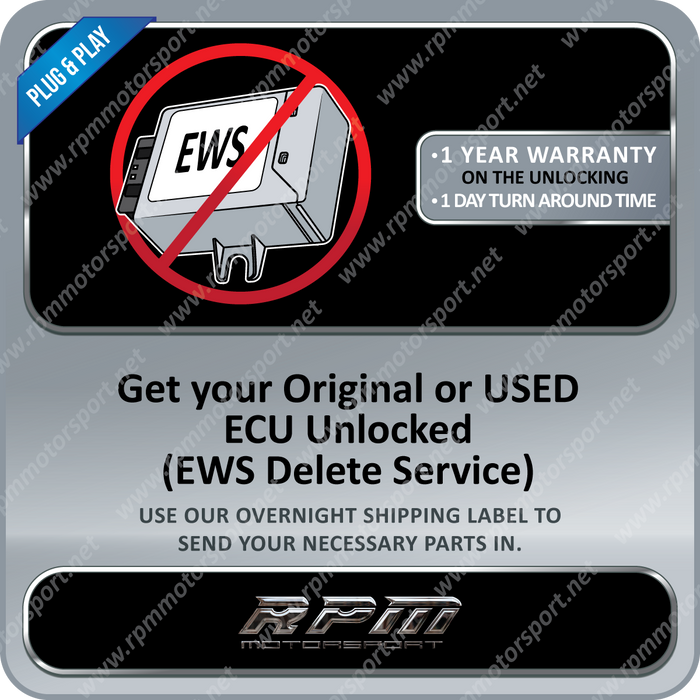 Worked amazing I love it definitely worth this buck and wicked fast shipping and good customer service
Glad we could help get your car back on the road Cody :)
Fast Delivery
Excellent service and quick delivery
Very fast and professional help
Thanks for the review Matthew!
nice
vers good product and service
Unlocked DME
Great service/product, fast response, awesome to talk with, and fast service!
Thanks for the positive review Brian!
BMW / MINI Unlocked DME Programming Service. No EWS 3.3 or 4.3 Required!
Save

$0.00 CAD
Save

$-399.00 CAD
Product Information
This is a Unlocked DME Service to any BMW OLD E-Series with EWS3 / EWS 4.3 Years 1998 to 2006.
This is useful for removing your EWS system when having the following issues:

1. EWS 3.3 failed due to a battery boost.

2. Replaced a EWS3.3 to a EWS4 from your local BMW Dealer and now running into problems.

3. You have Used your 10 Keys allowed by BMW and now your local dealer is asking you to replace the whole set for $$$$.

4. Upgrading a Race Car and wanting to remove your EWS System.

5. Installing an Engine into an older BMW that does Not have a EWS system in it.

If any of those 5 options is what you are looking for then you may go ahead and order since they fit your needs.
Model Supported
BMW Z3 Z Series (2.5i/2.8i) Years 03/1998 to 10/2000 DME MS42 

M52TU Engine

BMW Z3 Z Series (3.0i) Years 01/2001 to 06/2003 DME MS43 M54 Engine

BMW Z3 Z Series (Z3M 3.2L) Years 01/2000 To 05/2006 DME MSS54 

BMW 3 Series E46 Years 1999 to 2000 DME MS42 M52TU Engine
BMW 5 Series E39

Years 

1999 to 2000 DME MS42 M5TU Engine
BMW 3 series E46

Years 

2000 to 2003 DME MS43 M54 Engine
BMW 3 series E46

Years 

2003 to 2006 DME MS43 M56 Engine
BMW 5 series E39

Years 

2000 to 2003 DME MS43 M54 Engine
BMW X5 Series E53 3.0L 11/1999 To 06/2006 DME MS43 M54 Engine
BMW E38 (7 Series) 740i Years 08/1997 to 09/1998 M62 Engine
BMW E39 (5 Series) 540i Years 10/1998 to 07/2003 

M62TU Engine

BMW E38 (7 Series) 740i Years 10/1998 to 07/2001 

M62TU Engine

BMW E53 (X5 Series) 4.4i & 4.6 is Years 10/1998 to 07/2003 

M62TU Engine

MINI COOPER (R52) - (R53) W11 Engine Years 09/2000 To 11/2006 
MINI COOPER (R50) - (R52) W10 Engine Years 09/2001 To 11/2006 
MINI COOPER (R50) - (R52) W10 Engine Years 07/2004 To 11/2006 
DME / ECU SUPPORT LIST
DME Siemens MS42  -  DME Siemens MS43  -  DME

 Siemens MS45.0

DME Siemens MS45.1

 -  DME Bosch 0261204620

DME Bosch 0261207106  -  DME Siemens MSS52  -  DME Siemens MSS54

DME 

Siemens MSS54HP  -  MINI Cooper EMS2K  -  MINI Cooper MS5150
MS42 ECU Supported Part Numbers are:
1429810 - 1429811 - 1430268 - 1430338

1430273 - 1438787 - 1430671 - 1430672

1430785 - 1430786 - 1430844 - 1430845

4509413 - 7500255 - 7500256 - 7505859

7506345 - 7526753 - 7526754 
MS43 ECU/DME Supported Part Numbers are:
7509942 - 7511570 - 7518111 - 7519308
7519309 - 7520873 - 7527919 - 7530854
7530855 - 7528050 - 7528051 - 7536649
7536649 - 7536650 - 7545150 - 7545200
7551615 - 7551616 - 7571016 - 7571289

7571017 - 

7571290 - 7572342 - 7572371

MS45.1 ECU/DME Supported Part Numbers are:
7512523 - 7514833 - 7527015 - 7522584
7523810 - 7525937 - 7526791 - 7527110
7524718 - 7530211 - 7531500 - 7531442
7532142 - 7532903 - 7533652 - 7533654
7541336 - 7541344 - 7543158 - 7543224
7548770 - 7548772 - 7549388 - 7549391
7549795 - 7561382 - 7561383
MS45.0 ECU/DME Supported Part Numbers are:
7541343 - 7513279 - 7513280 - 7522770
7522771 - 7526000 - 7526001 - 7527000
7527001 - 7527072 - 7526790 - 7527730
7527731 - 7530260 - 7532902 - 7531440
7531441 - 7532140 - 7532141 - 7533651
7533653 - 7541335 - 7541343 - 7543157
7543223 - 7548769 - 7548771 - 7549387
7549390 - 7549792 - 7549794 - 7561380
MSS54 / MSS54HP ECU/DME Supported Part Numbers are:
7831815 - 7832207 - 7832594 - 7832642
7832868 - 7832899 - 7833145 - 7833147
7833284 - 7833286 - 7833892 - 7833893
7834326 - 7834327 - 7834530 - 7834531 
7834910 - 7834911 - 7834981 - 7834982 
7835564 - 7835565 - 7835584 - 7835585 
7836454 - 7836455 - 7837340 - 7837341 
7837805 - 7837806 - 7837941 - 7837942 
7838801 - 7838802
MSS52 ECU/DME Supported Part Numbers are:
7830816 - 7831122 - 7831127 - 7831762
7832339 - 7831762 - 7832785 - 7832861 
7833151 - 7833155 - 7833965 - 7833966 
7835278 - 7835279 - 7835620 - 7835621 
7837965  - 7837966 
ME7.2 ECU/DME Bosch 0261204620 / 0261207106
7532675 - 7506366  - 1430943  - 1438728
7522888 -7512912
Mini Cooper Supported ECU's:
7512001  -  7520020  -  7512798  -  7513980
7512799  -  7513980  -  7513981  -  7513982
7513983  -  7513984  -  7514587  -  7520019
7520020  -  7527610  -  7530084  -  7539808
7530084  -  7542310  -  7552690  -  7557395
DME Location