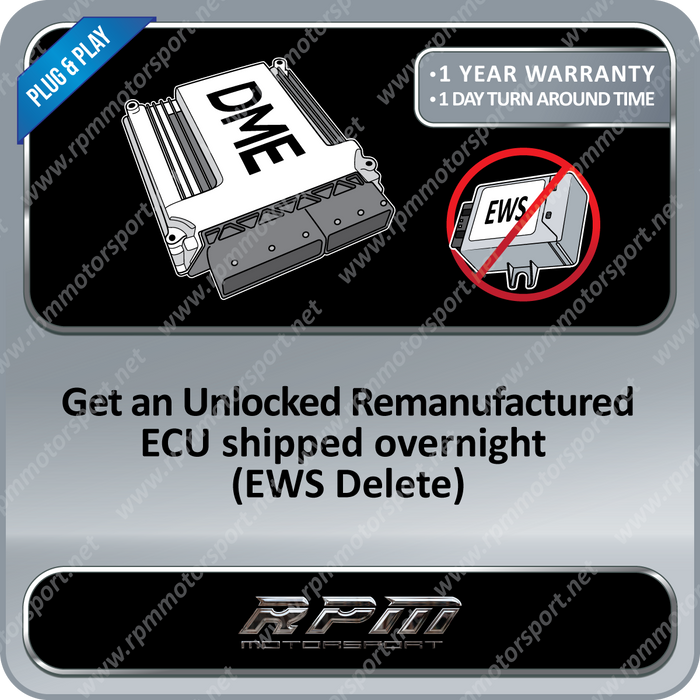 Real deal
Super quick shipping, exactly as detailed on the website, true plug n play. RPM knows ehat they're doing!
Hello Stefan,
Thank you for your kind and positive words! Hope we hear from you again soon! :)
ECU upgrade
the ecu I got had the performance upgrade and unlocked EWS. the replacement was very easy and did improve the erratic and frequent idle issues that lead to eventual stalling and needing to restart engine. I have been very pleased with this purchase. if I had known about this availability, I would have purchased sooner. the performance upgrade is very nice and stealth.
Hello Barry,
We are so stoked that you're happy with the performance upgrade! Thank you! :)
BMW / MINI Unlocked DME with EWS 3.3 or 4.3 - Plug & Play (Ready to Ship)
Great service all the way around.
I bought the vehicle a month ago. "Service Engine Soon" light remained lit after replacing both O2 sensors. Your tech employee Lee advised me to get the Unlocked DME with EWS 3.3/4,3 - Plug & Play with the upgrade. The new unit arrived the day after the order was processed and it eliminated the defective DME situation. I do a lot of work on vehicles and am very impressed with your service. Job well done/.
BMW / MINI Unlocked DME with EWS 3.3 or 4.3 - Plug & Play (Ready to Ship)
Save

$220.00 CAD
Save

$220.00 CAD
Translation missing: en.product.item.price.original
$1,100.00 CAD
Product Information
This is Re manufactured unlocked DME (1 Year warranty) to any BMW OLD E-Series with EWS3 / EWS4.3. 
This is useful for removing your EWS system when having the following issues:

1. EWS 3.3 failed due to a battery boost.

2. Replaced a EWS3.3 to a EWS4 from your local BMW Dealer and now running into problems.

3. You have Used your 10 Keys allowed by BMW and now your local dealer is asking you to replace the whole set for $$$$.

4. Upgrading a Race Car and wanting to remove your EWS System.

5. Installing an Engine into an older BMW that does Not have a EWS system in it.

If any of those 5 options is what you are looking for then you may go ahead and order since they fit your needs.
Models supported
BMW 3 Series E46 1999 to 2000 DME MS42 M52TU Engine
BMW 5 Series E39 1999 to 2000 DME MS42 M5TU Engine
BMW 3 series E46 2000 to 2003 DME MS43 M54 Engine
BMW 3 series E46 2003 to 2006 DME MS43 M56 Engine
BMW 5 series E39 2000 to 2003 DME MS43 M54 Engine
BMW X5 Series E53 3.0L 11/1999 To 06/2006 DME MS43 M54 Engine
BMW E39 (5 series) 540i Years 05/1997 to 09/1998
BMW E38 (7 Series) 740i Years 08/1997 to 09/1998
BMW E39 (5 Series) 540i Years 10/1998 to 07/2003
BMW E38 (7 Series) 740i Years 10/1998 to 07/2001
BMW E53 (X5 Series) 4.4i & 4.6 is Years 10/1998 to 07/2003
MINI COOPER (R52) - (R53) W11 Engine From 09/2000 To 11/2006 
MINI COOPER (R50) - (R52) W10 Engine From 09/2001 To 11/2006 
MINI COOPER (R50) - (R52) W10 Engine From 07/2004 To 11/2006 
DME Support list
All Siemens MS43 , Siemens MS45.0 , Siemens MS45.1 , Bosch 0261204467 , Bosch 0261204620 , Bosch 0261207106 , Siemens MSS52 , Siemens MSS54 , Siemens MSS54 HP and MINI Cooper EMS2K and MS5150 are Supported.


MS42 ECU Supported Part Numbers are:
1429810 - 1429811 - 1430268 - 1430338

1430273 - 1438787 - 1430671 - 1430672

1430785 - 1430786 - 1430844 - 1430845

4509413 - 7500255 - 7500256 - 7505859

7506345 - 7526753 - 7526754 
MS43 ECU/DME Supported Part Numbers are:
7509942 - 7511570 - 7518111 - 7519308
7519309 - 7520873 - 7527919 - 7530854
7530855 - 7528050 - 7528051 - 7536649
7536649 - 7536650 - 7545150 - 7545200
7551615 - 7551616 
MS45.1 ECU/DME Supported Part Numbers are:
7512523 - 7514833 - 7527015 - 7522584
7523810 - 7525937 - 7526791 - 7527110
7524718 - 7530211 - 7531500 - 7531442
7532142 - 7532903 - 7533652 - 7533654
7541336 - 7541344 - 7543158 - 7543224
7548770 - 7548772 - 7549388 - 7549391
7549795 - 7561382 - 7561383
MS45.0 ECU/DME Supported Part Numbers are:
7541343 - 7513279 - 7513280 - 7522770
7522771 - 7526000 - 7526001 - 7527000
7527001 - 7527072 - 7526790 - 7527730
7527731 - 7530260 - 7532902 - 7531440
7531441 - 7532140 - 7532141 - 7533651
7533653 - 7541335 - 7541343 - 7543157
7543223 - 7548769 - 7548771 - 7549387
7549390 - 7549792 - 7549794 - 7561380
ME5.2.1 ECU/DME Bosch 0261204467
1430261 - 7501733 - 7501734 - 1437284
1430228 - 7501733 - 7501734 - 1437446
ME7.2 ECU/DME Bosch 0261204620 / 0261207106
1430943 - 1438728 - 7501290 - 7501662
7501679 - 7501680 - 7504862 - 7504902
7506366 - 7506367 - 7506368 - 7506369
7508698 - 7510281 - 7512912 - 7512913
7522222 - 7522223 - 7522700 - 7522702
7522777 - 7522727 - 7522800 - 7522802
7522888 - 7522880 - 7532675 - 7533707
7532676 - 7533708 - 7533032 - 7537699
7533033 - 7537700
Mini Cooper Supported ECU's:
7512001  -  7520020  -  7512798  -  7513980
7512799  -  7513980  -  7513981  -  7513982
7513983  -  7513984  -  7514587  -  7520019
7520020  -  7527610  -  7530084  -  7539808
7530084  -  7542310  -  7552690  -  7557395
DME & EWS Locations