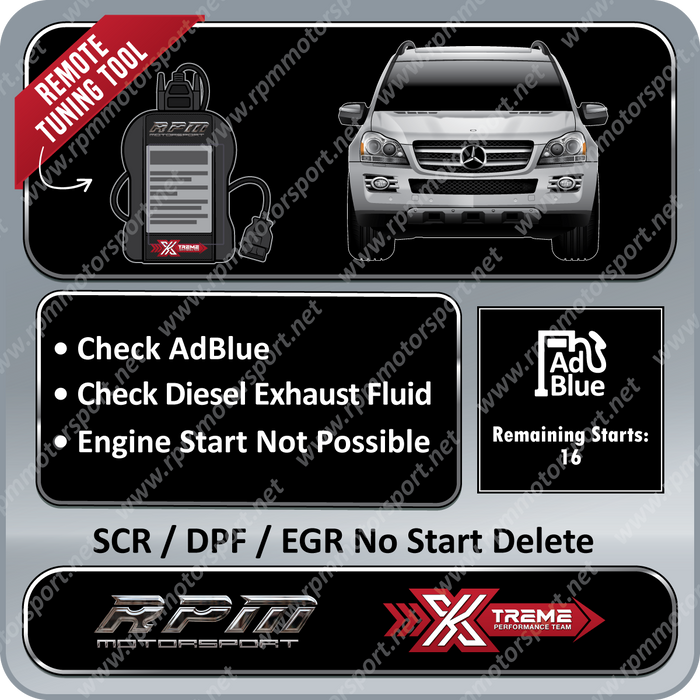 X5 35d SCR, DPF, EGR delete tune
This company is amazing! Super knowledgeable and easy to get this tune done. We love the performance tune as well. Highly recommend
Thank you for the kind words Eric! It was our pleasure working with you!
535d is running!
Great service with people that know their craft. My car, a 2014 535d, was in NO START mode. It's not fair that a car manufacturer can dictate how you want to run your own car. RPM gave me back my car! and my car runs better than factory.
Thanks for the awesome review! Glad we were able to help bring your diesel back to life!
Best Customer service
Best Customer service Ever ! Delivery Fast and i Do recommended
We really appreciate that! It was our pleasure :)
DPF delate
Car wasn't able to start do to code no start DPF malfunction. Order the kit great customer service and response from Lee with questions and walk through guid on how to delate the code. Thank you! Great experience over all! Highly recommended
Thanks for the kind words Gabe. Happy to hear that everything is good to go!
Awsome
I can a feel a big deference in the throttle response and increase in power. In the bottom end
That's awesome to hear Michael! Thanks for taking the time to write a review! Glad to you are happy with the tune :)
Mercedes Benz SCR / DPF / EGR Delete (EDC16CP31) Years 2003 to 2012
Save

$300.00 CAD
Save

$300.00 CAD
Translation missing: en.product.item.price.original
$1,900.00 CAD
Product Information
This is a SCR (AdBlue), DPF (Diesel particulate filter) and EGR (Exhaust gas recirculation) removal Programming Service for Mercedes Benz equipped with EDC16CP31 ECU Years 2003 to 2012.
Popular Dash Warnings:
Check AdBlue
Check Diesel Exhaust Fluid
Engine Start Not Possible
DEF / SCR (AdBlue): This Service is useful when your yellow Mercedes Sprinter DEF – diesel exhaust fluid warning light comes on. There are many reasons why this light may appear and can be very expensive to resolve. 
DPF (Diesel particulate filter): This service is useful when you need to replace the Diesel particulate filter. This is very expensive, so we recommend removing it and replacing it with a straight pipe exhaust. 
EGR (Exhaust gas recirculation): This service is useful when your EGR valve becomes clogged with carbon build-up or stops functioning correctly for other reasons. Disconnection of the EGR Valve from its connector and blocking the EGR valve with block-off plates is required.  
Disclaimer: Within the USA & Canada, this product is legal only for racing vehicles which may never be used on a public highway.
Models Supported
MERCEDES-BENZ A 180 CDI 09/2004 - 04/2012

MERCEDES-BENZ B 180 CDI 04/2005 - 05/2011

MERCEDES-BENZ B 200 CDI 04/2005 - 05/2011

MERCEDES-BENZ CLS 320 CDI Coupe 05/2005 - 04/2009

MERCEDES-BENZ E 280 CDI 4MATIC 04/2005 - 03/2009

MERCEDES-BENZ E 280 CDI T-Modell 4MATIC 04/2005 - 08/2009

MERCEDES-BENZ G 320 CDI 09/2006 - 12/2009

MERCEDES-BENZ GL 320 BlueTec 4MATIC 09/2008 - 08/2009


MERCEDES-BENZ GL 350 CDI 4MATIC 05/2009 - 08/2010

MERCEDES-BENZ ML 280 CDI 4MATIC 07/2005 - 04/2009

MERCEDES-BENZ ML 300 CDI 4MATIC 05/2009 - 12/2010

MERCEDES-BENZ ML 300 CDI 4MATIC 05/2009 - 07/2011

MERCEDES-BENZ ML 320 CDI 4MATIC 03/2005 - 04/2009

MERCEDES-BENZ R 280 CDI 05/2007 - 04/2009

MERCEDES-BENZ R 280 CDI 4MATIC 04/2006 - 04/2009

MERCEDES-BENZ R 300 CDI 05/2009 - 05/2010

MERCEDES-BENZ R 300 CDI 4MATIC 05/2009 - 05/2010

MERCEDES-BENZ R 320 CDI 4MATIC 06/2007 - 05/2009

MERCEDES-BENZ R 320 CDI 4MATIC 09/2005 - 04/2009

MERCEDES-BENZ R 350 CDI 4MATIC 05/2009 - 05/2010

MERCEDES-BENZ Viano CDI 2.0 11/2006 - 08/2010

MERCEDES-BENZ Viano CDI 2.2  09/2003 - 12/2010

MERCEDES-BENZ Vito 111 CDI 11/2006 - 07/2010

MERCEDES-BENZ Vito 115 CDI 10/2003 - 07/2010

MERCEDES-BENZ 209 CDI Sprinter 04/2006 - 12/2009

MERCEDES-BENZ 213 CDI Sprinter 04/2006 - 09/2011

MERCEDES-BENZ 309 CDI Sprinter 04/2006 - 12/2009

MERCEDES-BENZ 313 CDI Sprinter 04/2006 - 09/2011

MERCEDES-BENZ 509 CDI Sprinter 04/2006 - 12/2009
ECU Supported
 EDC16CP31 
0281013751 - 0281015916 - 0281015133 - 0281014343
0281012396 - 0281012027 - 0281011830 - 0281012031
0281012396 - 0281012410 - 0281012419 - 0281012406
0281012575 - 0281017882 - 0281016862 - 0281016863
0281016859 - 0281016860 - 0281017307 - 0281016865
0281016866 - 0281015919 - 0281015915 - 0281015931
0281015933 - 0281015936 - 0281015944 - 0281015946
0281015938 - 0281012842 - 0281014341 - 0281014940
0281014963 - 0281014973 - 0281015282 - 0281015620
0281015664 - 0281014179
A6421500277 - 

A6421504341 - A6421505372 - A6421509500

A6421504179 - A6421501579 - A6421500079 -

A6421503779




A6421504179 - A6421505579 - A6421506479 - A6421505179

A6421508179 -

A6469006400

-

A6469003900

-

A6469004000

A6469003600

-

A6409002100

-

A6469005800

-

A6469005800

A6469004300

-

A6461500100

-

A6461501100

-

A6421507300

A6421507500

-

A6421507800

-

A6421508600

-

A6421500100

A6421508000

-

A6421501591

-

A6421500872

-

A6421506434

A6421503341

-

A6421509426

-

A6421509641

-

A6421506041

A6421507679 - A6421502330