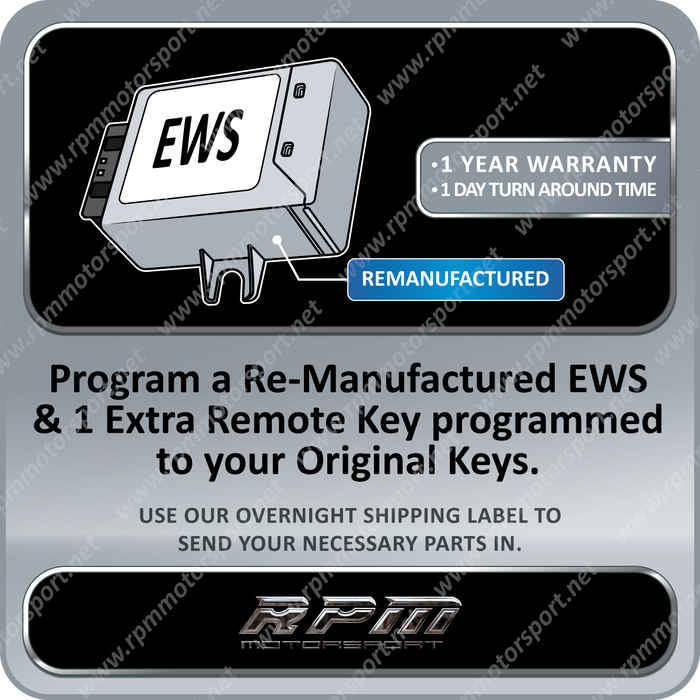 More than I expected
My 330ci vert had the dreaded nothing after turning the key, I couldn't get a reading from my ews and i got crank at the starter when I applied voltage so I was pretty sure my ews was bad. I mailed my stuff in on Saturday and arrived quickly on Tuesday. The car started right up, and it even got an alarm system working that I didn't even known the car had. Getting a new key fob was a great add on that made it all the more worth.
Thank you Christian! Happy to hear that the vehicle is up and running again!
A well organized company
Excellent and patient! Got the job done quick. Car works wonderfully! Didn't even know my 325i had automatic door locks after your hit a certain speed.
Great Communication and Service
My son's 330i had the dreaded "nothing happening" when trying to start it. I am not even close to being a BMW Tech, so I burnt up the internet looking for wise council. To make a very long troubleshooting story much shorter, I finally found RPM Motorsport's diagnostic test online and decided it must be the EWS system pooped out. I sent them the required components and received a phone call a couple of days later explaining what they found and gave me another repair option. I went with that, got the parts back, reinstalled them, and the car started just fine. Thanks RPM Motorsport!
Since it's back running again, I now have to figure out the other mystery of the SMG II and the Cog of Death on the instrument panel. Oh well, working on a BMW means zero boredom!
Hello Jan,
We're so happy that we were able to fix your situation. BMW means zero boredom indeed :) We're here for your assistance anytime! Looking forward to hearing from you again soon!
Walter Ingaharro
I could not be more satisfied for the service and product I received from RPM motorsport LTD. I had different issues brought on by the EWS, that the BMW dealership said they could not find a problem so they fixed it by removing a fuse. I would not go back to the Dealer again . found RPM MotorSport on Line they guided me thru trouble shooting and now I'm driving down waving at you.
Hello Walter,
We're glad you found us :) Always a pleasure working on cases that are said unsolvable by the dealer. Thank you for your kind words Walter!
Good service
Very happy with customer support
Thank you George. We're always here for you! :)
Mini Cooper R50 / R52 / R53 (S) EWS 3.3 Kit 05/2001 to 11/2006
Save

$0.00 CAD
Save

$-625.00 CAD
Product Information
This is a MINI Cooper EWS 3.3 Kit that comes with an extra remote key or two extra non remote keys. ALL MINI Cooper Models are supported from Years 05/2001 to 11/2006.

The Keys will be Laser cut in our faculty upon your Original Key arrival, You may add an Extra Remote Key if you want to receive 2 Remote Keys as a Total.
Here Are some reasons why you would need an EWS 3.3 KIT : 

You Upgraded your defective EWS3.3 to a EWS4.3 and get a Rolling Code Error, After you start your car and wait about two weeks your engine will not fire up unless you perform an EWS-DME Alignment using a BMW diagnostic tool.
Your Battery drained, You came to recharge it and now your Car does not Crank at all.
You jump started your car, and later on it wont crank at all.
Your Car does not Crank.
You tried to Order Keys from the Dealer and they told you that you used All your 10 Keys.
Found a used DME (Engine control unit) but do not have Kit for it.
Your EWS was Damaged.
All your Keys were lost.
Upgraded your Engine but want to keep your Old EWS Kit.
Parts to be shipped
EWS Modules Supported
All EWS3.3 and 4.3 units are supported.
61359145097 (EWS4.3)

61356905667 (EWS3.3)

61356905668 (EWS3.3)

61358374957 (EWS3.3)


61354100187 (EWS3.3)
Models Supported
MINI R50   (09/2000 — 11/2006)
MINI R53   (09/2000 — 11/2006)
MINI Cabrio R52   (11/2002 — 07/2008)
DME & EWS Locations