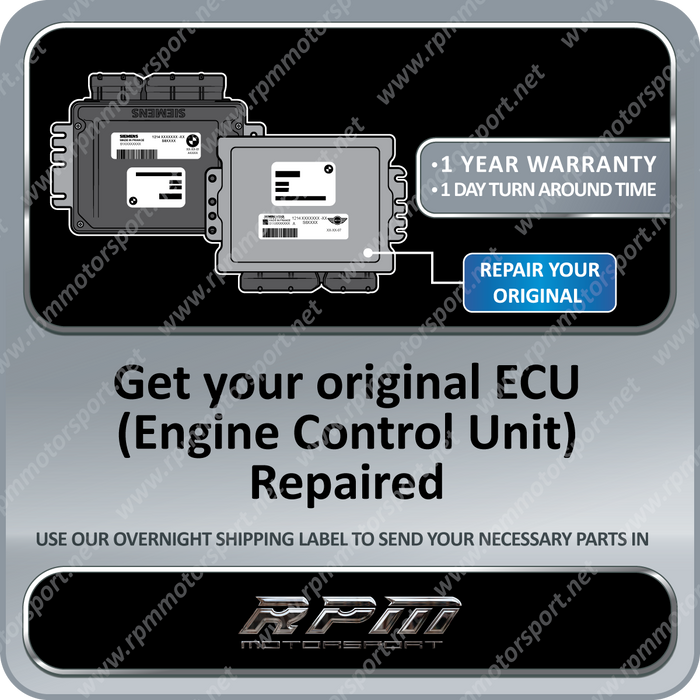 Flash DME Back to Stock
Bricked my DME. I ordered stock flash to get my car running. I received my DME within a week. The car stared and running again. Thanks RPM.
Hello Robert,
Thank you for putting your trust in us! Looking forward to hearing from you again soon!
Bricked cas and add a key
Awesome service, super fast to Canada n back, fixed my cas added a key at low cost n when I got it back my custom coding I had performed was still intact and I didn't have to reprogram and code!
Hello Brandon,
It was a pleasure serving you. We're glad your custom coding was still intact! We're looking forward to hearing from you again soon!
Bricked DME for s85
They're very professional and quick. My DME was completely dead and they fix and shipped it back to in days. Highly recommended them.
Hello Chetan,
It was awesome serving you! Thank you for your positive feedback! :)
Amazing
Some of the best customer service I've had! They kept up with the tracking of my package. Also shipping was so fast! That was very helpful thank you guys!! Definitely doing business with you guys again without a doubt
Hello Luis,
Thank you for taking the time out to write this awesome review. We're always here for you anytime you decide to come back for our services. Looking forward to hearing from you again soon!
Outstanding service!
Didn't find anything wrong with my unit, helped me diagnose the problem, and refunded part of the cost because I didn't need the full service! I will definitely use them again if I have any issues with my BMW.
Mini Cooper R50/R53 2000 to 2008 DME Revival Service (Bricked)
Save

$0.00 CAD
Save

$-625.00 CAD
Product Information
This is a Repair Service for any Mini Cooper R50/R52/R53 W10 or W11 Engines equipped with a EMS2K or MS5150 DME that does not communicate due to programming failure (no crank no start). 
Popular incidents may be one of the following below:
Programming failure using BMW Progman V32.0 or higher

Programming failure using BMW ISTA-P

Programming failure using 

Autologic
Programming failure with any BMW aftermarket tool.
ECU got bricked due to a TUNE.
ECU got bricked due to Programming
All of the above incidents would indicate that you need a NEW DME since your processor is now defective, however, we are able to repair your original ECU without the need of replacement.
Models Supported:
MINI COOPER (R52) - (R53) W11 Engine From 09/2000 To 07/2004 DME Siemens EMS2K
MINI COOPER (R50) - (R52) W10 Engine From 09/2001 To 07/2004 DME Siemens EMS2K
MINI COOPER (R52) - (R53) W11 Engine From 04/2005 To 07/2008 DME Siemens MS5150
MINI COOPER (R50) - (R52) W10 Engine From 09/2001 04/2005 To 07/2008 DME Siemens MS5150
DME / ECU Support list:
7557395 - 7566240 - 7553735
7520019 - 7527610 - 7542310
DME & EWS Removal: