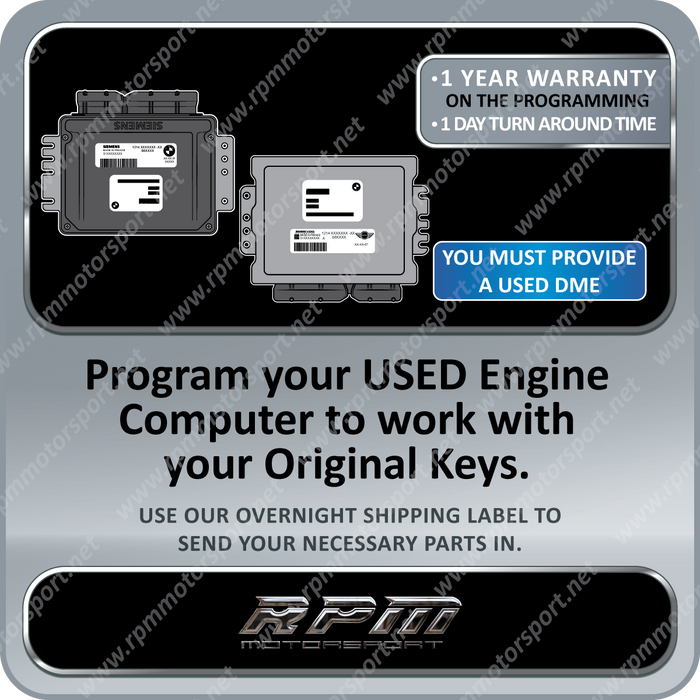 Very Happy
This company is on top of everything & is the best ECM rebuilder in Canada. I contacted them with my problem , they explained what to do & 3 days later the car is running again. Now that's service. Thank you !
Glad we were able to help you get the car started! We appreciate the your feedback :)
Awesome service!!!
Super happy got my mini back up and running!!
Hello Yandel,
We're so happy that you got your baby back on the road!
Great job
Fast service plug in and drive got the wife back in her mini great job
Hello,
We're happy that the wifey is back on the road with her MINI. Looking forward to hearing from you again soon!
ECU
I'm satisfied with your service, thanks
We're happy that you're happy Jim :)
Exceptional
Had a used DME programmed and haven't had single issue. They communicated that they had concerns with condition of ecu that I sent them and suggested a sonic cleaning before programming due to risk of premature failure. Had it back within a day, so couldn't ask for more. When I'm ready for a tune I will sure be using these guys/gals because there is no other reasonable, reliable or quicker service of this type out there.
Thank you Travis! We are looking forward to tuning your baby for some more extra ponies :)
Mini Cooper R50/R53 Used ECU Programming 09/2000 to 11/2006
Save

$0.00 CAD
Save

$-499.00 CAD
Product Information
This is a MINI COOPER R50 / R52 / R53 Used DME/ECU Programming. This service is useful if you purchased a USED ECU that belongs to another vehicle and cannot be programmed due to it being locked.
We will program your USED ECU with the correct VIN Number, Mileage, Coding and finally the Programming.
Models Supported
MINI COOPER (R52) - (R53) W11 Engine From 09/2000 To 11/2006 DME Siemens
MINI COOPER (R50) - (R52) W10 Engine From 09/2001 To 11/2006 DME Siemens
MINI COOPER (R50) - (R52) W10 Engine From 07/2004 To 11/2006 DME Siemens
DME / ECU SUPPORT LIST
ALL EMS2K (EMS2000) & MS5150 MINI COOPER DME'S are supported (Normal Models and S Models) Also known as W10 Engines and W11 Engines.

Mini Cooper Supported ECU's :
7512001  -  7520020  -  7512798  -  7513980 
7512799  -  7513980  -  7513981  -  7513982
7513983  -  7513984  -  7514587  -  7520019  
7520020  -  7527610  -  7530084  -  7539808  
7530084  -  7542310  -  7552690  -  7557395   
DME & EWS Locations