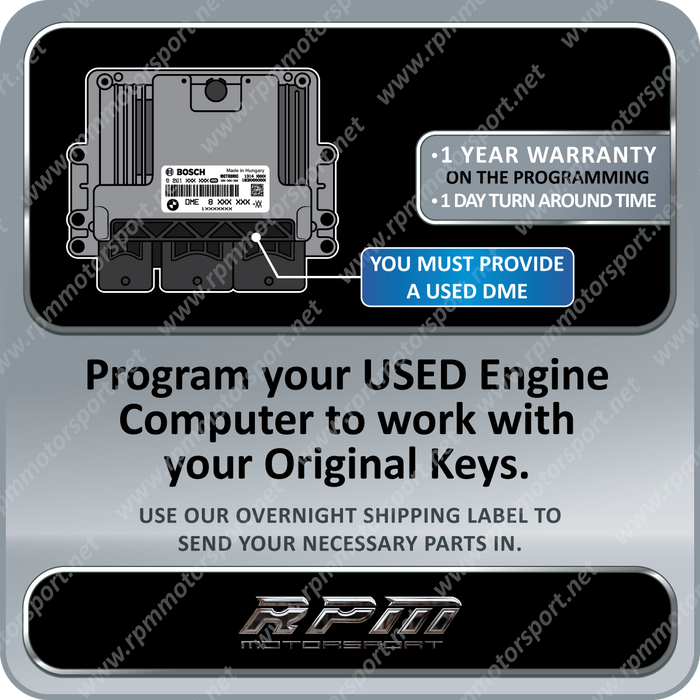 MINI
Great service and very quick
Thank You
You're welcome! Glad we could help you out with this Mini!
Mini DME
Your data transfer onto my used mini DME worked great. Fast service and good communication!!! Thank You!
Thanks for the review Chris!
Mini Cooper R56/R60 Used ECU Programming 2007 to 2016
Absolutely amazing customer service
These guys are amazing. We purchased a 2011 Mini Cooper ALL4 that needed a DME but I had questions. I reached out to multiple companies and this was the only one that answered me. While on the phone, the representative treated me with respect and answered all of my questions (hard to find when your a woman in this industry). Shipping was fast and convenient!
Thanks for sharing your experience Stephanie! It was our pleasure :)
Great service!
Great help from Lee in getting everything selected for the programming and very fast service. Highly recommended!
Mini Cooper R56/R60 Used ECU Programming 2007 to 2016
Save

$0.00 CAD
Save

$-399.00 CAD
Product Information
This is a MINI Cooper USED DME Programming for any R-Series with a N12 / N14 / N16 or N18  engines equipped with DME MEV172 / MED172 / MEV1722 / MEVD1722 / MEVD1727.
Models supported 
Mini Coupe (R56) = Cooper - Cooper S - Cooper S J.C.W - Years 04/2006 to 07/2010
Mini Coupe (R56) LCI = Cooper - Cooper S - Cooper S J.C.W - Years 04/2009 to 07/2013
Mini Clubman (R55) = Cooper - CooperS - Cooper S J.C.W - Years 05/2007 to 07/2010
Mini Clubman (R55) = Cooper - CooperS - Cooper S J.C.W - Years 03/2009 to 07/2013
Mini Cabrio (R57) = Cooper - CooperS - Cooper S J.C.W - Years 11/2007 to 07/2010
Mini Cabrio (R57) LCI = Cooper - CooperS - Cooper S J.C.W - Years 01/2010 to 07/2013
Mini Coupè (R58) LCI = Cooper - Cooper S - Cooper S J.C.W - Years 01/2011 to 07/2013
Mini Roadster (R59) = Cooper - Cooper S - Cooper S J.C.W - Years 01/2011 to 07/2013
Mini Countryman (R60) = Cooper - Cooper S - Cooper S J.C.W - Years 01/2011 to 07/2013
Mini Paceman (R61) = Cooper - Cooper S - Cooper S J.C.W - Years 04/2012 to 07/2013
DME / ECU SUPPORT LIST
Mini Cooper Supported ECU's :  MEV172 - MED172 - MEV1722 - MEVD1722 - MEVD1727
MEV172
7573701 - 7573704 - 7573702 - 7573705
7584954 - 7584973 - 7584955 - 7584974
7586136 - 7586137 - 7588502 - 7588503
7589971 - 7589972 - 7590859 - 7590860
7597212 - 7597213 - 7620007 - 7600008
7620019 - 7600020 - 7600075 - 7600076
7600204 - 7600205 - 7601759 - 

7630205

7601760 - 7640001 - 7620001 - 7640004
7640005 - 7620005 - 7640201 - 7620201
7620204 - 7640205
 MED172
7584097 - 7584098 - 7584113 - 7584110
7586132 - 7586133 - 7586134 - 7586135
7587548 - 7587549 - 7590857 - 7590858
7597207 - 7597209 - 7601756 - 7601758
7610006 - 7630006 - 7610008 - 7630008
7610009 - 7630009 - 7610010 - 7630010
7610011 - 7630011 - 7610012 - 7630012 
7610013 - 7630013 - 7610014 - 7630014 
7610081 - 7630081 - 7610091 - 7630091
7630105 - 7610106 - 7630106 - 

7631103

7630107 - 7610108 - 7633108 - 

7641103 

7610109 - 7630109 - 7610110 - 7630110 
7641001 - 7631001 - 7641003 - 7631003 
7641101 - 7631101
MEV1722
7602755 - 7602756 - 7607685 - 7608338
7612919 - 7612920 - 7615980 - 7615271
7615981 - 7615272 - 7619334 - 7619430
7619335 - 7619431 - 7620986 - 7621372 
7620987 - 7621373 - 8617049 - 

8600123 

8625070 - 8652744 - 7643770 - 7627518 
MEVD1722
7560766 - 7560767 - 7607683 - 7608339
7611386 - 7611387 - 7612190 - 7612597
7613225 - 7613226 - 7619332 - 7619485
7619333 - 7619486 - 7620984 - 7621374
7620985 - 7621375 - 7639048 - 

7639563 

7639562 - 7639049 
MEVD1727
7639421 - 7648190 - 8610006 -

 

8652746

8611439 - 8621261 - 8652747 - 

8621260

7643769 
The following part numbers cannot be superseded and must be replaced with the same exact part numbers due to internal memory chip difference If your original DME is one of these part numbers, please contact our sales department before placing your order:
MEV172
MED172
DME & CAS Removal