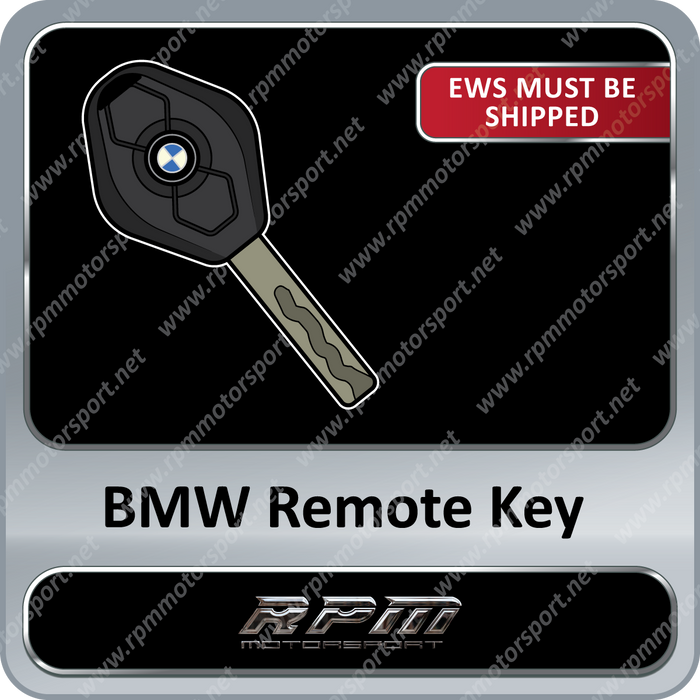 Doods@lanBim
I'm very satisfied with the quality and results! I can recommend this to anyone that has a similar problem with the EWS. I'm happy with my new remote key!
Thank you!
Key fob
Needed a new key fob asap.. since I had broken mine and needed a key to drive my car.. I sent it out and had it back in 2 days.. super fast!!!
Thanks for the positive review Jason!
Excellent results!
After the BMW dealership took my money, did an incomplete job, feigned concern and then left me to with a false quest to get my keys to work, I contacted RPM Motorsport. They set up my existing keys (BMW could not) and added another to replace the original which will no longer work. End result is that I have 3 working keys (starting and key fob locking/unlocking). If I knew about RPM first, I would have saved $$$ from going to BMW. Excellent job!
New key remote door opener/alarm set.and EWS cleaned of all keys,reprogramed to new key.
R.P.M. did exactly what they advertised. And what I wanted...arived as soon As it could,due to weather.
Car started right up!!
Hello John,
We're stoked that our service fixed your issue! We're looking forward to hearing from you again soon!
Exceeds Expectations
This service was easy and Keith answered all of my questions prior to purchasing the service. New keys look perfect and the instructions worked flawless. Very happy to have gone this route and would absolutely recommend RPM to anyone needing any service they offer!
Hello Joseph,
We will go ahead and forward this awesome review to Keith! Thank you so much for taking the time out to write this. The whole team really appreciates it :)
BMW E53 X5 3.0i 4.4i 4.6is 4.8is Remote Key 1999 to 2006
Save

$0.00 CAD
Save

$-250.00 CAD
Product Information
This is a BMW E53 (X5 Series) Remote Key.

You will need to use our UPS OVERNIGHT SHIPPING LABEL to ship your EWS3 (Electronic Immobilizer) in order for us to program the new Key to your Immobilizer.

Models supported
BMW E53 (X5 Series) Years 1999 to 2006
X5 E53, X5 3.0i, SUV
X5 E53, X5 4.4i, SUV
X5 E53, X5 4.6is, SUV
X5 E53, X5 4.8is, SUV
EWS Removal Instructions
Remote Key Initialization